Lisa Z. Morgan
Associate Professor
Image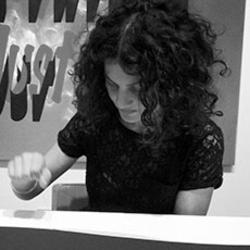 Lisa Z. Morgan is a British artist, designer and writer now based in Providence. She is the Co-Founder of STRUMPET & PINK and of The Lavender Hinge. She writes, plots and schemes with The Laboratory Arts Collective and has been a contributor to SHOWstudio.
Morgan's work cavorts across a variety of media, ranging from knickers to perfume, sewn paintings, mixed media installations, performances, short films and the written word. Melding critical ways of knowing with the haptic and embodied, she fosters dialogues around the intricacies of sense-making, desire and the desire impulse.
In 2011 Morgan was commissioned to curate and author the book Design Behind Desire, which has become a compendium for desirable objects and has been exhibited at the Triennale Design Museum in Milan as an object of desire within itself.
As an artist Morgan has exhibited and performed internationally. Her work, both individual and collaborative, has been featured in magazines and newspapers such as W, Elle, Vogue, LOVE, Tatler, Interview, The New York Times, The LA Times, The Financial Times, The Guardian, Wallpaper, The Telegraph, AnOther, Purple Magazine, S Magazine and The Huffington Post among others. Morgan's work has been reviewed in eight books and is included in several private collections as well as the RISD Museum and Victoria & Albert Museum in London.
Morgan holds a Master of Arts from the Royal College of Art in London where she also initiated a PhD. Since her inquiry focused on the development of a philosophy of the sensuous through the investigation of the color pink, she took on the pseudonym The Pink Investigator.
Fall 2022
APPAR-3142-01 Senior Thesis: Design Identity I (fall)

APPAR-3142-02 Senior Thesis: Design Identity I (fall)
Summer 2022
APPAR-8960-01 Professional Internship

NMSE-8960-10 Professional Internship
Wintersession 2023
NMSE-8960-02 Professional Internship
Spring 2023
APPAR-3143-01 Senior Thesis: Design Identity II (spring)

APPAR-3143-02 Senior Thesis: Design Identity II (spring)