Brett Schneider
Associate Professor
Image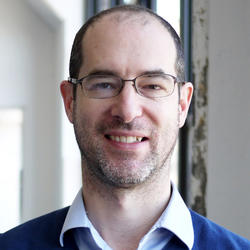 BA, Williams College
ME, Princeton University
Brett Schneider was educated as both an architect and an engineer. After earning his Bachelor of Arts degree from Williams College in Art History (with honors) and Astrophysics in 1994, Schneider pursued joint Master's degrees in Architecture and Structural Engineering at Princeton University, graduating with a Master's in Engineering in 2000.
Schneider is currently senior associate at Guy Nordenson and Associates, where he has practiced as a structural engineer since 1998. Recently completed projects include the glass pavilion at the Toledo Museum of Art in Toledo OH (SANAA), the Kimbell Art Museum Expansion in Fort Worth, TX (RPBW) and the Menil Drawing Institute at the Menil Collection in Houston, TX (JohnstonMarklee). Current projects include Days End with the artist David Hammonds for the Whitney Museum of American Art. He was winner of the BP Prize at the Chicago Architectural Biennial 2015 with Aaron Forrest and Yasmin Vobis for Chicago Horizon (Lakefront Kiosk Competition).

In addition to teaching structures and design studios at RISD, Schneider has recently been a visiting critic at Parsons School of Design (School of Constructed Environments) and a visiting lecturer at the College of Architecture, Art and Planning at Cornell University. He has also previously taught integrated design of architecture and structure at the Graduate School of Architecture Planning and Preservation at Columbia University.
Schneider's primary interest in practice and teaching is the integration of architecture and structural engineering: how these two disciplines inform each other and in their overlap lead to new frontiers of design. Currently this includes a focus on the engineering of innovative timber structures expanding the conventional boundaries of frames and mass timber through projects, writing and design research.
Fall 2022
ARCH-2252-01 Phenomena

ARCH-2252-02 Phenomena

ARCH-252G-01 Phenomena

ARCH-252G-02 Phenomena
Spring 2023
ARCH-2253-01 Architectural Anatomy

ARCH-2253-02 Architectural Anatomy

ARCH-253G-01 Architectural Anatomy

INTAR-2398-01 Design Thesis

INTAR-2398-02 Design Thesis

INTAR-2398-03 Design Thesis

INTAR-2398-04 Design Thesis

INTAR-2398-05 Design Thesis