Daniel Heyman
Assistant Professor
Image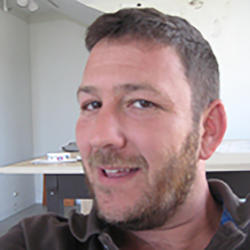 MFA, University of Pennsylvania
In the past decade, Daniel Heyman has moved away from the overtly political work he did making portraits of various communities in the cross-hairs of American and international politics: Iraqi torture survivors from Abu Ghraib, US Veteran Military Sexual Assault Survivors and Native Americans living on reservations in North Dakota, among others. Heyman traveled widely and worked closely with human rights lawyers and other groups to help disenfranchised communities tell their stories in their own words. His portraits walked the tightrope between art and journalism—true to the traditions of printmakers throughout history. More recently, he has focused on incorporating Japanese papermaking techniques and historical images into his large folding screens and oil paintings. His work oscillates between printmaking, hand papermaking and painting.
Heyman's work is included in numerous public collections including the Metropolitan Museum of Art, Library of Congress, New York Public Library, Yale University Art Gallery, Virginia Museum of Fine Arts, Baltimore Museum of Art, Princeton University Art Museum, Hood Museum of Art, RISD Museum and the Minneapolis Institute of Arts. Awards include a Guggenheim Fellowship (2010), a Pew Fellowship in the Arts (2009), numerous RISD and Princeton University Professional Development Grants and residencies at Yaddo, MacDowell, the Awagami Paper Factory, the MI-LAB Nagasawa Art Park, Japan and the Fine Arts Work Center.
Exhibitions of Heyman's work have been held at the St. Louis Museum of Art, Virginia Museum of Fine Art, Philadelphia Museum of Art, Baltimore Museum of Art, Amon Carter Museum of American Art, Pennsylvania Academy of Fine Arts, University of Iowa Museum of Art, Hood Museum of Art, New York Public Library and Cade Tompkins at Spring Break Art Show. Heyman has lectured widely including at MOMA, Princeton University Museum of Art, Philadelphia Museum of Art, Tyler School of Art, Oberlin College, Columbia University, Connecticut College, Hunter College, the Hood Museum, Amon Carter Museum of American Art and Cranbrook School of Art.
Reviews of his work have appeared in The New York Times, Art in America, The Boston Globe, LA Times and the Chicago Tribune. Heyman holds degrees from Dartmouth College and the University of Pennsylvania and has taught Printmaking at RISD since 2004. He lives with his husband in Tiverton, RI and speaks English and French.
Academic areas of interest
Committed to the idea of an international component as invaluable to a good education, Daniel Heyman began to work in 2010 with HPSS colleague Elena Varshavskaya to start the Printmaking department's Wintersession class in Japan to study papermaking at the Awagami Paper Factory on Shikoku Island. The first trip in 2011 was a success and has been followed by eight more overseas Wintersession classes and two summer programs in Japan. He has followed up these ties with several residencies in papermaking shops in Japan, where he has dived deeply into combining the Japanese papermaking tradition, contemporary pulp painting and traditional "byobu" folding screens. He continued this investigation by dedicating two years to making a series of large vertical hanging scrolls from relief prints. Heyman pushed to start a Japanese papermaking course on campus, which he now teaches frequently. Mercurial by nature, Heyman continues to paint in a variety of media and styles, with images ranging from a reordering of cosmic chaos to the stillness of pond water.
Fall 2022
FOUND-1003-12 Studio: Design

FOUND-1003-24 Studio: Design
Wintersession 2023
PRINT-4420-01 *berlin: Draw/print/paper: Europe
Spring 2023
PRINT-4645-01 Papermaking

PRINT-4645-02 Papermaking

PRINT-8900-02 ISP Major