Hilary Doyle
Critic - Experimental and Found Studies
Image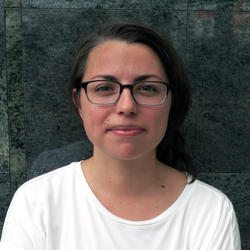 MFA, Rhode Island School of Design
Hilary Doyle lives and works in Brooklyn, NY. She earned her MFA at RISD and her BFA from the Massachusetts College of Art and Design. Doyle has exhibited with such galleries as Field Projects, Parlour Bushwick, Trestle Gallery, Parallel Art Space, Airplane, Vox Populi, the Phoenix Art Museum and Erin Cluely gallery in Texas and has had solo shows at the Active Space and Brown University. Her work has been covered in such publications as Hyperallergic and Bushwick Daily and on the New American Paintings blog. Doyle recently completed a residency at Mass MoCA Museum of Contemporary Art in North Adams, MA. Her multidisciplinary practice includes painting, drawing, sculpture and digital collage.
In addition to teaching at RISD, Doyle has taught at Brown University and Purchase College. During a three-year teaching residency at Brown, she taught Drawing I/II and Foundation classes. At Purchase she taught Foundation Drawing, Painting I, Intermediate Drawing, Senior Seminar for Painters and Materials and Techniques for Painters.
Doyle recently started a grad school-style class for adult artists in New York City called NYC Crit Club. She will be co-teaching a new iteration of the class at Abrons Art Center with gallery co-director and artist Catherine Haggarty. She also works as a curator with Reid Hitt under the name HR Curating and worked as co-director of Projekt722 art gallery for three years.