Mattia Casalegno
Critic - Experimental and Found Studies
Image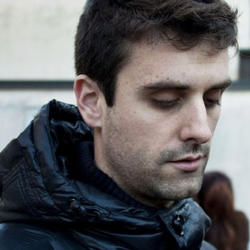 MFA, University Of California Los Angeles
Mattia Casalegno is an Italian artist working in video, sculpture, performance, installations and virtual reality. His work explores the physical and sensory perceptions of its viewers, evoking experiences that are fully immersive, sensorially embodied and psychologically heightened. His art practice draws from the most disparate disciplines such as anthropology, ecology, biology, neurosciences and informatics and focuses on the relations and tensions between nature, society and technology.
Nominated for the New Technological Art Awards in 2014 and serving as artist-in-residence at Eyebeam in 2015, he received various grants and fellowships from, among others, NEW INC, the Center for Cultural Innovation, Young Italian Artists Network, NYFA, the Elizabeth Foundation for the Arts and the Asia Culture Center in South Korea. In 2018 he was recipient of a Lumen Prize Award.
Casalegno has exhibited in such museums and institutions as MACRO Museum and Auditorium in Italy, Mutek Festival in Canada, Kuandu Museum of Fine Arts in Taiwan, Chronus Art Center in China, Cimatics festival and Nuit Blanche in Belgium, Optronica in the UK, Le Cube—Contemporary Art Museum in France, OFFF in Spain, LACMA, YAA Museum and Satellite Art Fair in the US.
His work is been featured in such publications and catalogues as A Touch of Code, Gestalten Books; New Media Design, Sometti; and Deleuze and Audiovisual Art, Manchester Metropolitan University, and in The Washington Post, The New York Times, The Wall Street Journal, Artribune, e-artnow and Hyperallergic.
Fall 2022
CTC-1000-01 Introduction To Computation

DM-2039-01 Immersive Spaces

ILLUS-3346-01 Augmented Design: Creating In and For Virtual Reality
Wintersession 2023
CTC-1000-01 Introduction To Computation

GRAPH-8900-04 ISP Major
Spring 2023
GRAPH-8900-05 ISP Major

ILLUS-8900-17 ISP Major

NMSE-8900-15 ISP Non-major Elective