Jesus Alejandro Tirado Alcaraz
Lecturer - History Phil Social Sciences
Image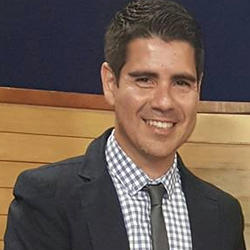 MS, Universidad de Guadalajara
PHD, University of Texas - Dallas
Alejandro Tirado started teaching at RISD in January 2017. He was challenged with designing an American government course based on the outcome of the 2016 election. In addition, he has designed and taught courses on Latino identity, civic engagement, race relations, poverty and inequality in America, and media politics. Tirado is also a financial advisor with New York Insurance Company and a guest reviewer for the Poverty and Social Protection Conference organized by the Tomorrow People Organization. He was born and raised in Mexico in a little town called Mazatlan, where he frequently returns to visit his family. He moved to Guadalajara where he competed his BS and MS in Economics. He started teaching at a young age at Universidad de Guadalajara and Tec de Monterrey. In 2007 he moved to Dallas, TX to pursue his doctoral degree in Public Policy and Political Economy. After graduation, he worked at Texas Tech University before moving to Rhode Island in 2015 and working at Roger Williams University and the Latino Policy Institute. He has volunteered at DORCAS International Institute in the refugee program and citizenship clinics, and he enjoys cooking, electronic music and dancing.
Academic areas of interest
Tirado-Alcaraz' research focuses on the political economy of social assistance, migration and race/ethnicity relations. He is interested in the evaluation of public policies that, although well intended, perpetuate economic and social inequalities. He has collaborated on research projects about environmental conflicts in Latin America, where international corporations have used the media to justify their actions at the expense of displacing marginalized indigenous communities. More recently he has conducted two reports on Latino entrepreneurs in Rhode Island and a policy analysis of issuing driver's licenses to undocumented Rhode Islanders. He's currently working on a research project about older adults in Rhode Island living in nursing homes and Home and Community-Based Services (HCBS). He coauthored the book Environmental News in South America: Conflict, Crisis and Contestation (Palgrave Studies in Media and Environmental Communication). His work has also been published in The Journal of Community Informatics and Journal of Social Research and Policy.
Spring 2023
HPSS-S237-01 Democratic Erosion