Eduardo Duarte
Professor
Image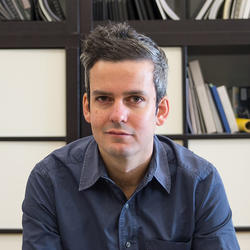 BARC, Universidade Tecnica de Lisboa
MAS, Columbia University
PHD, University of Lisbon
Eduardo Benamor Duarte (b. 1975) is a member of OA Portuguese Architects Association / Ordem dos Arquitectos. In 2009 he founded his studio, Benamor Duarte Architecture, focused on design of objects and spatial environments at large. Recent architecture, design and installation commissions include group exhibitions at the Cite de l'Architecture et du Patrimoine, Institut Francais d'Architecture in Paris, Salone Satellite - Milan Furniture Fair, Temporary Museum for New Design, and Made Expo in Milan; Wanted Design NY and Soho Digital Art Gallery in NY; Bienniale Design in Saint Etienne and Experimenta Design in Lisbon.
Over the years Duarte's work has been published in a number of international magazines, books and newspapers such as Abitare, AD France, Domus Magazine, Elle Décor, Interni, Ecologik, Frame, La Repubblica, Expresso, Vogue Italia, and the publishing houses Gestalten and Links Books. His work has won awards from several institutions in Portugal and the US, including the Ministério da Cultura - Direcção Geral das Artes, Calouste Gulbenkian Foundation and RISD.
Academic areas of interest
Duarte's research is deeply characterized by a longstanding obsession with the duality between abstraction and preexistence as a form of cultural inquiry. His current research and practice identify reflexive systems that foster the transformation of our living environments based on the adaptation of a geometrical abstract apparatus in dialogue with a preexisting material condition or a pre-figuration of a thought as a spatial typology. Recent projects engage form in programs that range from installations for public spaces to ceramic building blocks to home furniture and landscapes determined by infrastructural systems for renewable energies. His work explores form in many versions and always in its most abstract content, from generating a new environment to repeating a limited number of abstract procedures in a systematic mode to testing the capacity of a flexible configuration to be adaptable in any location and modeling the material behavior of a spatial component driven by user interaction.
Fall 2022
INTAR-2374-01 Human Factors

INTAR-2397-01 Design Thesis Prep
Summer 2022
INTAR-2356-02 Summer Studio In Scandinavia

INTAR-2357-02 Scandinavian Design and Architecture
Spring 2023
INTAR-2398-01 Design Thesis

INTAR-2398-03 Design Thesis