Joan Hall
Senior Critic-Printmaking
Image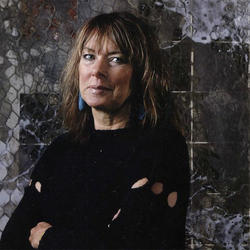 BFA, Columbus College of Art and Design
MFA, University of Nebraska, Lincoln
Joan Hall works in mixed media and large-scale sculptural installations with an emphasis on the materials of handmade paper, glass and metal. Hall received her BFA at the Columbus College of Art and Design and her MFA at the University of Nebraska-Lincoln. She studied papermaking with Garner Tullis at the Institute of Experimental Printmaking in Santa Cruz, CA. She is known for her innovative approaches to material and process.

The climate crisis, with an emphasis on plastic pollution, her passion for marine advocacy and experimentation with materials are core to her practice. She has always been drawn to the sea, its maritime history, a love of sailing and her physical relationship to it, sources of inspiration throughout her career.

Hall's work has been exhibited in numerous solo and group shows in the US and abroad, including Germany, Denmark, Japan, the Netherlands and France. Her installation The Invasion of Hull Cove was included in the European Cultural Center's Personal Structures exhibition during the 2019 Venice Biennale. Her most recent large-scale installation, Algae Bloom, was included in the WaterFire Arts Center's exhibition Planet Earth: The Environment and Our Future in Providence, RI.

Hall's most recent exhibition was Where Light Dances: On the Water and in My Memories at the Childs Gallery in Boston, MA. She has been the recipient of numerous grants and awards, including two MAAA-NEA individual artist grants and an exhibition grant for her show in Silkeborg Bad from the Danish National Arts Council.

Selected books include 500 Paper Objects, New Directions in Paper, Papermaking for Printmakers, The Art and Craft of Papermaking, Critical Mass, Artforms and The Art of Papermaking, and her work will be included in an upcoming book on pulp painting with paper. Hall was recently interviewed by Jan Castro of Sculpture magazine for an article about her sculptural works on paper.
Spring 2023
PRINT-462G-01 Graduate Printmaking II: Curatorial & Critical Topics and Practice

PRINT-464G-01 Graduate Printmaking IV: Critical Topics and Practice