Teresa Cervantes
Critic
Image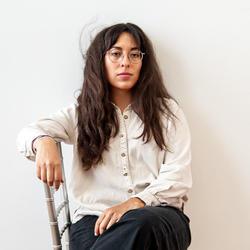 Teresa Cervantes is an interdisciplinary artist based in Philadelphia with roots in El Paso, TX. She received an MFA from the Tyler School of Art and a BFA from the University of Texas at Austin. Working both collaboratively and solita, as an artist and as an educator, Cervantes' multiple practices are committed to exploring the ways she can shape change in her/our world.
Recent collaborations include peebls, an intersectional-feminist propaganda rock band for children of all ages and in two languages; AgencyAgency (2016–18), a group of artists who injected play into the bureaucratic; Break Out Session, a long-running, self-organized pedagogical project originally called Book Club; and an ongoing collaborative practice with her partner, Daniel Zentmeyer.
With her sola work, Cervantes aims to defuse the logic of "business as usual" and create fissures in banal American consumer rituals. Often this occurs through a combination of performance, object making, interceptive installations and a wry sense of humor.
Fall 2022
NMSE-8900-15 ISP Non-major Elective

PAINT-8900-07 ISP Major

SCULP-4721-02 Junior Sculpture: Studio I

SCULP-4785-02 Research Studio II: Community, Site, and Ethics
Wintersession 2023
NMSE-8900-03 ISP Non-major Elective

SCULP-8965-01 Collaborative Study
Spring 2023
SCULP-472G-01 Graduate Studio II

SCULP-4798-01 Senior Sculp Degree Project