Nathan Prebonick
Continuing Education Instructor
Image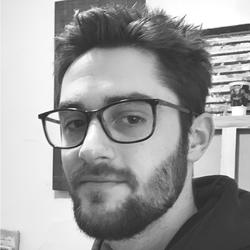 MFA, Rhode Island School of Design
An abstract painter from Akron, OH, Nathan Prebonick makes paintings about the relationship between the landscape and aesthetics. The disparate aesthetic histories of northeast Ohio exist at the genesis of his studio investigations. In the paintings, historical references appear in a semiotic fashion, like visual quotations. Initially focused on Akron's function as a central traffic corridor amid the continental US, his work has grown to incorporate more universal thresholds of space and time.
Prebonick is also interested in the relationship between wayfinding devices within real space and the media icons that guide the way we navigate space and time virtually. Trail markers, traffic signage and icons from Google Maps and familiar electronic devices surface in his latest works. These wayfinding devices emerge from pixelated fields, moiré patterns and halftone fossils projecting a sense of liminal space—a place between here and there, then and now.
Prebonick studied at the University of Akron Myers School of Art, where he received his BFA with a concentration in Painting & Drawing, and earned his MFA in Painting at RISD. In 2016 he led a curatorial project that repurposed a portion of the former Quaker Oats Factory in downtown Akron as an exhibition space. He has exhibited in the Midwest and on the East Coast, in Akron, Cleveland, Boston, New York City and Providence.