About RISD
Image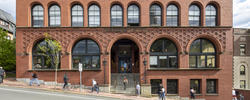 RISD is a college and museum founded in 1877 in Providence, RI. Today 2,620 students engage in 44 full-time bachelor's and master's degree programs, supported by a committed faculty and worldwide network of more than 31,000 alumni.
By cultivating expansive and elastic thinking, RISD equips artists, designers and scholars to generate and challenge the ideas that shape our world.
Student-to-faculty ratio
9:1
Undergraduate students
2,109
Domestic students of color
38%
International students
36%
Contact us
We're always looking for new ways to connect and grow our community. Please pay us a visit, send us a question or reach out to say hello.
Get in touch