Distinguished Honorees
Image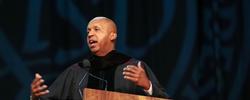 For more than four decades, RISD has recognized selected leaders in contemporary culture with honorary degrees. Presented each year at Commencement, honorary doctor of fine arts degrees celebrate the work of innovative individuals who have made significant social and cultural contributions to society. Honorary degree candidates are selected not only for advancing their fields but for embodying RISD's values and furthering its mission.
Nomination process
Each spring RISD's Honorary Degree Committee—appointed by the president and comprised of students, faculty, staff and trustees—solicits, reviews and recommends nominees to the Board of Trustees for the following year's Commencement ceremony. Once the Board reviews and approves the committee's nominations, the president selects and extends an invitation to each candidate, who is asked to accept the award in person at Commencement.
Every member of the RISD community is encouraged to submit nominations at any point in the year, with the understanding that the committee reviews nominations a full academic year in advance of when these degrees are awarded.
For more information, read the full honorary degree policy.
President's Medal of Honor
The President's Medal of Honor recognizes individuals and organizations who have enhanced RISD through civic engagement, advocacy, philanthropy and other exceptional contributions to the institution. Established in 2019, it commemorates deeds outside the areas of artistic or academic achievement that make an enduring and transformative impact on the college, museum and RISD community.
Honorees
2023
Kim Gasset-Schiller P 14 — former RISD trustee
2021
Pauline C. Metcalf — RISD trustee emerita, RISD Museum governor
Stephen Metcalf — RISD trustee emeritus, RISD Museum governor
Vera Metcalf
2019
Dr. Joseph A. Chazan — nephrologist, art collector and advocate