Working Here
Image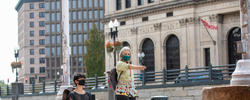 RISD is an equal opportunity employer offering a supportive, collegial and inclusive work environment and a competitive benefits package. Here you'll meet staff, faculty and students who thrive on creativity and value what art and design bring to the world.
Human Resources at RISD
The benefits we offer RISD employees include medical and dental insurance plans, a 403 (b) retirement plan with employer contributions, paid time off and many more.
People who work here also enjoy many ways of accessing the creative culture on campus. You can explore the RISD Museum at little or no cost, take advantage of resources at the Fleet Library or enroll in Continuing Education courses for free or at a deeply discounted rate.
If you are a student looking for employment or internships, visit RISD Careers for info about jobs, entrepreneurship opportunities, and connecting with RISD alumni networks. RISD Careers also provides resources for employers interested in posting jobs, viewing résumés and hiring RISD students and graduates.
RISD is an equal opportunity employer.