Donor Recognition
Image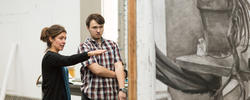 We want every RISD student to realize their extraordinary potential and share their gifts with the world.
Give now
RISD donor societies
As one of the first independent colleges of art and design in the US—incorporated on March 22, 1877 as both a school and museum—RISD has been a home for creative and thoughtful makers to pursue their artistic dreams. We honor our founding, our people and our history by naming a recognition society for each.
Recognition societies celebrate and thank our philanthropic supporters who are continuing the tradition of generosity upon which RISD was founded. We acknowledges members of our donor family through offers of membership in giving societies that correspond with three categories of philanthropic support: loyalty, leadership and legacy.
Each mode of giving has a distinct and profound impact on the institution, and each has a special significance to our donors. We seek to honor donors and their impact by inviting them to join a giving society that recognizes their generosity distinctly.
1877 Society
Leadership donors who support RISD with annual gifts of $2,500 or more to the RISD Fund set the pace for our philanthropic community. Named for the year of our founding, the 1877 Society honors and recognizes those who make it possible to reach our ambitious goals and respond to the most pressing needs of the college.
Members of the 1877 Society are included in our annual leadership donor listing, enjoy invitations to exclusive events and pre-event receptions, and receive insider access to exciting news and happenings at RISD as well as VIP benefits at RISD events and celebrations.
Become a leader in our RISD community and a source of inspiration by joining the 1877 Society with a contribution to the RISD Fund at one the following levels:
Trustees' Circle: $25,000 and above
$25,000 could fund one financial aid package for an undergraduate student.
President's Circle: $10,000–$24,999
$10,000 could provide materials stipends for 100 high-need students.
Deans' Circle: $2,500–$9,999
$2,500 could purchase toolboxes for 10 first-year students.
$5,000 could fund one student's summer internship in a major city.
For more information, please email us at giving@risd.edu or call 844 454-1877.
Jesse and Helen Rowe Metcalf Society
Named in honor of two of RISD's founders whose vision and legacy have blossomed into the institution we hold dear today, the Jesse and Helen Rowe Metcalf Society recognizes donors who have demonstrated their generosity and commitment to RISD by incorporating the college and/or museum into their estate plans. Metcalf Society members ensure that the quality of a RISD education and the vibrance of our artistic community continues in perpetuity.
In addition to receiving exclusive mailings, event invitations and updates from RISD, Metcalf Society members enjoy an annual luncheon with fellow members, programming with experts in wealth planning and updates on the work of our students and faculty.
For more information about the Metcalf Society or planned giving at RISD, please email us at giving@risd.edu.
The Centennial Society
Loyalty donors, those who have given to RISD in any amount for three consecutive years or more, are the cornerstone of our philanthropic community. Named for the Rhode Island Women's Centennial Commission gift that founded RISD, the Centennial Society honors and recognizes donors who provide the steady, reliable support upon which RISD will build and make its future.
Centennial Society members enjoy hearing first-hand about the impact of philanthropy at RISD and invitations to events and receptions. For more information, please contact us at giving@risd.edu or 844 454-1877.