Leadership
Guided by President Crystal Williams, our leadership furthers the reach and champions the transformational power of creative education.
Image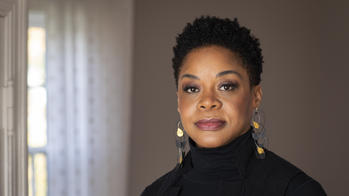 Crystal Williams believes that education, art and design, and commitments to equity and justice are essential to transforming our society. Williams has more than two decades of higher education experience. She is an institutional catalyst, helping to envision, define and achieve greater outcomes for students, faculty and staff. As a faculty member, she has focused on advancing artistic inquiry and engagement. As a leader, she ensures through her work that institutions are more effective, mission-aligned and diverse, equitable and inclusive.
Board of Trustees
The primary responsibilities of the Board of Trustees are to:
advance RISD's mission
provide organizational oversight
set policies
Officers of the Board
Hillary Blumberg 92 FAV
New York, NY
Co-Chair
freelance design director and consultant
Ilene Chaiken 79 GD/P 18
Los Angeles, CA
Co-Chair
writer, producer, show runner
Karen Hammond
Providence, RI
Vice Chair
retired (former Managing Director, Devonshire Investors)
Jon Kamen P 09
New York, NY
Vice Chair
Chairman, CEO, RadicalMedia
Tavares Strachan 03 GL
New York, NY
Vice Chair
artist
Term Trustees
Her Excellency Sheikha Al Mayassa bint Hamad bin Khalifa Al Thani
New York, NY
Chair, Qatar Museums, Doha Film Institute and Qatar Leadership
Ashleigh Axios 08 GD
Washington, DC
Chief Experience Officer and co-owner, Coforma
David C. Barclay P 10
Los Angeles, CA
retired (former Senior Vice President and Director, Capital Research and Management Company)
Caroline Baumann
New York, NY
design leader; former Director, Cooper Hewitt, Smithsonian Design Museum
Gabrielle Bullock BArch 84
Los Angeles, CA
Principal and Director of Global Diversity, Perkins and Will
Norman Chan BArch 85
Hong Kong
Director, BTR Workshop
Donald Choi 82 BArch
Hong Kong
Executive Director and CEO of the Chinachem Group
Ryan Cunningham 02 FAV
New York, NY
Owner, Running Woman
Erica Gerard Di Bona P 11
Los Angeles, CA
independent fundraising consultant
Robert A. DiMuccio
Cumberland, RI
President and CEO, Amica Mutual Insurance Company
Michelle Ebanks
New York, NY
President and CEO, Apollo Theater
Shepard Fairey 92 IL / HD 21
Los Angeles, CA
artist and founder, OBEY
Fabian Fondriest P 16
Boston, MA
CEO, American Family Direct and Homesite Insurance
Joe Gebbia 05 GD/ID / HD 17
San Francisco, CA
Co-Founder and CPO, Airbnb, Inc.
Robert W. Glass P 11
San Francisco, CA
Executive Vice President of Corporate Development, Robert Half International
Geetanjali Kirloskar
Bangalore, India
Chair and managing director, Kirloskar Systems
David Lee 00 GD
New York, NY
Chief Creative Officer, Squarespace
Mary Lovejoy
Barrington, RI
retired (former Vice President and Treasurer, Textron)
Nicole J. Miller 73 AP
New York, NY
fashion designer and Co-Founder/President, Kobra International Ltd.
Michael Rock MFA 84 GD
New York, NY
Founding Partner and Creative Director, 2x4
Shahzia Sikander MFA 95 PT/PR
New York, NY
artist
Michael H. Spalter
Providence, RI
financier, digital art collector
Todd Waterbury
New York, NY
Chief Creative Officer, Target
Margaret A. Williams
Westerly, RI
Co-Founder and Partner, Griffin Williams Critical Point Management, LLC
Ex Officio Trustees
Richard W. "Dick" Haining Sr. P 05
Atlanta, GA
Chair, Emeriti Trustees
retired (former Vice President, Montag & Caldwell)
Sonja O'Donnell P 22
Castine, ME
Chair, Families Association
Crystal Williams
Providence, RI
President, Rhode Island School of Design
Rex Wong BArch 03
Hong Kong
President, Alumni Association
CEO, Kum Shing Holdings
Emeriti Trustees
Anthony C. Belluschi BArch
66/P 95
Portland, OR
Vincent A. Buonanno
Providence, RI
Jamie F. Carpenter 72 IL
New York, NY
Jane Chace Carroll HD 06
New York, NY
Clara M. Dale BArch 75
New York, NY
Susan W. Dryfoos P 01
New York, NY
Bayard C. Ewing
Denver, CO
Anne B. Fordyce 67 SC
Watertown, MA
Katherine Freygang 80 IA/MFA 81 GD
Cornwall, CT
A. Corwin Frost 59 AR/P 97
Bronxville, NY
Wilfrid L. Gates, Jr. 65 LA
North Kingstown, RI
Cathy Barancik Graham 76 PT
New York, NY
Paula Koffler Granoff HD 10
Providence, RI
Richard W. "Dick" Haining Sr. P 05
Atlanta, GA
William R. Hammer BArch 65
Cambridge, MA
Ronne Hartfield
Chicago, IL
Dorothy Hebden-Heath 57 PT
Boston, MA
Se-Ung Lee P 91
Seoul, Korea
David A. Macaulay BArch 69 / HD 04
Norwich, VT
Pauline C. Metcalf
New York, NY
Stephen A. Metcalf
Providence, RI
Stuart J. Murphy 64 IL/P 96
Boston, MA
J. Terrence Murray
Narragansett, RI
Dana M. Newbrook 63 AR
Cumberland, RI
Joan Ress Reeves
Providence, RI
M. Kate Rittmann P 95
Orinda, CA
Merrill W. Sherman
Jamestown, RI
Philip E. Tobey BArch 66
Reston, VA
William J. Watkins P 83
Sarasota Square, FL
Patricia A. White 64 IL/P 96
Cambridge, MA
* RISD alumni are noted by a class year and major acronym following their names. Parents and grandparents of alumni are designated by P or GP, plus the year of graduation, and honorary degrees are designated by HD plus the year awarded.
Get to know RISD
Discover how hands-on learning and experimentation shape our approach to studio education across all departments and programs.
See how our current creative practices respond to the critical social, political and environmental challenges we face today.