RISD Fund
Image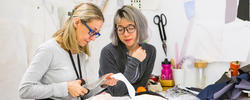 By donating to the RISD Fund, you ensure the full potential of the RISD experience is available to every student.
Give now
Our RISD community is a powerhouse of passionate people who not only make things, but make things happen. RISD is known for being rigorous, and for good reason. From day one, students are challenged to question their assumptions, immerse themselves in their creative and intellectual practices, confront pressing problems and stretch well beyond what is familiar and comfortable.
At RISD, we create the conditions so every student can realize their extraordinary potential and share their gifts with the world, and your support of the RISD Fund makes it all possible. From providing financial aid and specialized tools to expanding and deepening our curriculum (and so much more), you can effect change where it matters most and empower the college to be ready for what's most urgent.
Because tuition and fees only account for a portion of our annual budget, the RISD Fund is essential to meet our vision and goals. Now is the time to invest in our incredible artists, designers, builders, makers and dreamers.
Get in touch
Please call toll-free 844 454-1877 or send us an email for more information about how you can support the RISD Fund and direct your gift to support what matters most to you.
email giving@risd.edu
Steering Committee
Rhode Island School of Design was founded by an act of philanthropy in 1877. A gift of $1,675 from members of the Rhode Island Women's Centennial Commission was all it took to bring RISD into being. Today, philanthropy continues to play a central role at RISD, and the RISD Fund is a vehicle that drives philanthropic support to the areas of the college that need it most.

The RISD Fund's effort to advance our mission through current-use leadership giving is supported by the RISD Fund Steering Committee (RFSC), which is composed of members of the 1877 Society, RISD's leadership giving society. The committee consists of alumni and family members from diverse backgrounds, class years and majors who serve as a link between the RISD Fund, RISD Alumni Association and the RISD Families Association.

As part of the RFSC, members have the opportunity to develop professionally in a structured leadership role and actively participate in philanthropy and volunteerism efforts, such as peer-to-peer fundraising, social media engagement and event networking. They work to promote and grow the 1877 Society and advance participation and programmatic strategies to retain and increase the number of leadership giving donors.

For more information on the RFSC, please reach out to us at giving@risd.edu.
RFSC co-chairs
Ryan E. Cunningham 02 FAV
Deborah Mankiw P 23

RFSC membership
Michael O'Donnell P 22
Sonja O'Donnell P 22
Jennifer W. White 01 PH
James R. Wynn 98 GD
Becky A. Fong Hughes 05 GD