Community Partnerships
Image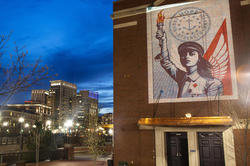 Hours
Mon–Fri, 8:30 am–4:30 pm
Contact
20 Washington Place
Fourth floor
Providence, RI 02903
The Center for Community Partnerships (CCP) helps campus and external partners develop, execute and assess a variety of projects and initiatives, creating a framework at RISD for responsible engagement.
The work of the CCP seeks to make RISD's assets, opportunities, skills and knowledge accessible to diverse communities while deepening the understanding of responsible civic and academic engagement among students, faculty, staff and alumni.
CCP leadership
Supported by the Community Engagement Advisory Committee and with input from across the institution, Executive Director Bethany Costello and Assistant Director Claudeline Chery lead the CCP. Together they develop near- and longterm strategies to increase awareness of RISD's mission, goals and agendas. Additionally they work with internal and external stakeholders to steward new and existing community partnerships in support of RISD's civic engagement efforts.
Sign up for our monthly newsletter
The CCP's monthly newsletter is one of the ways we keep our partners informed of the latest news and upcoming events in and around RISD.