Our Team
Image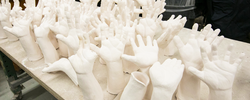 The Division of Institutional Advancement is here to help you select the best path for supporting RISD.
Give now
About us
Founded in 1957, RISD'S Division of Institutional Advancement (IA) includes a development team of frontline fundraisers, a campaign planning and strategy team responsible for implementing programming and communications, an alumni relations team that engages alumni and families, and an advancement operations team responsible for data integrity and technology.
Mission
IA advances RISD's mission by strategically fostering lifelong relationships with alumni, parents, friends and organizations to strengthen goodwill and philanthropy.
Vision
Our vision is to ensure that any person or organization who engages with RISD becomes an advocate and donor.
Values
The RISD Strategic Plan has identified the following core community values:
creative thinking and making
rigorous immersion and serious practice
engaged curiosity and experimentation
respect and inclusion
In addition, IA has identified the following complementary values:
agility
collaboration
generosity
integrity
intentionality
IA's goal: Be the BEST
Build an organization and campaign that position philanthropy as a vital revenue stream for the college and museum.
Create sustainable opportunities to engage alumni, parents, friends, students, staff and donors in support of the priorities of the college and museum.
Invest in staff, systems and processes that support a long-term performance-based high-achieving culture, essential to the success of the institution.
Create an IA communications organization to tell the impact of philanthropy on the college and museum, inspiring pride and advocacy.
Want to work with us?
RISD frequently posts exciting career opportunities for you to join the IA team. If you're interested in working at RISD, follow the link below.
More about working at RISD
Leadership
O'Neil A.S. Outar — Vice President
O'Neil A.S. Outar joined RISD's leadership team in January 2018, bringing more than 20 years of fundraising and leadership experience from some of the world's leading public and private research universities. He began his career at Tufts University, where he served as director of the Fund for Arts, Sciences and Engineering during the University's $609 million "Tufts Tomorrow" campaign. From there, Outar held several ascending leadership roles at the Massachusetts Institute of Technology, leading the work that secured some of MIT's largest-ever donations.
Following MIT, Outar held fundraising positions at the University of Alberta and Harvard University, where he led the $2.5 billion "Campaign for Arts and Sciences." Most recently he served as interim vice chancellor for Institutional Advancement at the University of Pittsburgh.
Currently a special adviser to The Guyana Foundation and a board director at Project Citizenship, Outar was a trustee on the Council for the Advancement and Support of Education, a Commonwealth Study conference leader, a member of the Word Economic Forum's Knowledge Advisory Group and an MIT Leader-to-Leader Fellow. A first-generation college student, he was born in New Amsterdam, Guyana and is named in honor of his father's favorite Australian cricketer, Norman O'Neill.
Contact IA
Telephone
toll-free: 844 454-1877
phone: 401 454-6403
fax: 401 454-6802
lcamara@risd.edu
Mailing address
Institutional Advancement
Rhode Island School of Design
20 Washington Place
Providence, RI 02903
Office address
123 Dyer Street, floor 4
Providence, RI 02903