Academic Advising
Image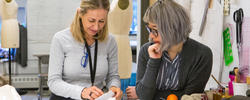 All RISD students receive academic advising from full-time faculty who guide you toward successfully completing your program of study. Throughout your studies, advisors help you cultivate critical thinking, scholarship, innovative practices and a drive for personal growth.
Finding your advisor
RISD students are assigned an academic advisor at the beginning of their studies and, in almost all cases, work with multiple advisors as they progress through their degree program. At all stages of your RISD education, you and your advisors will work together to review curricular options, select courses, discuss professional pathways, and connect with support offices and resources across the college.
To find your advisor, as well as information about your academic plan and progress, log into Workday using your RISD credentials, where you can review your academic record and see your progress toward graduation.
Graduate advising
Graduate advising is typically conducted between the student and their department's graduate program director (GPD). Some programs may assign you a full-time advisor other than or in addition to the GPD. When you reach the thesis stage you will have the opportunity to choose a committee chair who provides guidance specific to the master's thesis.
Advisors and advisees are expected to follow the student and faculty expectations throughout the student's academic experience. Our advising FAQ is also a great source of immediate information.