Ways of Giving
Image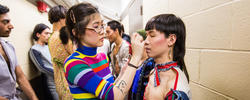 RISD's ability to make lasting contributions to a global society through critical thinking, scholarship and innovation relies on the generosity of its donors.
Give now
How to give
RISD is grateful for the support of alumni, parents and friends. Your generosity makes it possible for RISD to deliver the best art and design education in the world. Thank you.
Online
It's quick and easy to make an online gift to RISD using our secure site. RISD gratefully accepts PayPal, Venmo, Apple Pay, Samsung Pay and Google Pay as well as credit card payment through American Express, Visa, MasterCard, Discover, Maestro and JCB. Our secure site can also accept many different types of cryptocurrency.
Phone
Call toll-free 401 454-6325.
Mail
Please make your check payable to "Rhode Island School of Design" and indicate the designation of your gift in the memo line.
Please mail your check to:
Division of Institutional Advancement
Rhode Island School of Design
20 Washington Place
Providence, RI 02903
Other forms of support
Recurring gifts are an easy, automatic way to support RISD in a way that works for your budget and schedule. Convenient and customizable, recurring gifts help ensure predictability for you as a donor and a steady source of funding for RISD.
For more information, please contact giving@risd.edu or 844 454-1877.
By spreading payments over a period of time—typically five years or less—multiyear pledges allow donors to make larger commitments and fulfill them at a comfortable pace.
Making a planned gift is a wonderful way to show your support and appreciation for RISD and its mission while accommodating your own personal, financial, estate-planning and philanthropic goals. Please visit our planned giving site to learn more about how gift planning at RISD can help you achieve your goals.
To make planned giving as simple as possible, we've partnered with FreeWill to share a free, online estate planning tool with the RISD community. Using this resource, you can create an estate plan for free and include the necessary language to designate a planned gift to RISD. You can also use FreeWill to create a list of documented wishes if you prefer to finalize your plans with an attorney.
Memorial gifts and gifts in tribute
You can honor the memory of someone RISD had a particular impact on or who was special to your own RISD experience by making a tribute gift. Contact us if you want to learn more about or support existing memorial funds at RISD, or if you would like to establish a new fund named for a particular person.
You can make a tribute or memorial gift online.
For more information, please contact giving@risd.edu or 844 454-1877.
Many employers match the donations made by their current and retired employees, which increases the impact of your gift to RISD. Please contact advancementservices@risd.edu for assistance with matching gifts.
Recommending a gift to RISD through your donor-advised fund is great way to give back and diversify your philanthropy. If you are interested in discussing a major gift or multiyear pledge, or a gift through a donor-advised fund, please contact us at giving@risd.edu or 844 454-1877.
Wire your gift to RISD from anywhere in the world and in any currency—subject to limits imposed by US laws and regulations. Please follow these wire transfer instructions to complete your gift.
Questions? Please contact:
Serena Livingston
Recording Secretary
Director of Gift Administration
Division of Institutional Engagement
Rhode Island School of Design
Two College Street
Providence, RI 02903
Transferring stocks is another impactful way to support RISD. To facilitate your donation of stock, please consult these stock transfer instructions.
Questions? Please contact:
Serena Livingston
Recording Secretary
Director of Gift Administration
Division of Institutional Engagement
Rhode Island School of Design
Two College Street
Providence, RI 02903
The RISD Museum welcomes offers to donate works of art, as well as funds to purchase and care for new works. These gifts help to strengthen and broaden the museum's collections. Please contact the museum's Development Office at 401 454-6316 for more information on how you can donate to the museum's collection through an outright gift, bequest or promised gift.
Did you know that you can make your gift to RISD with cryptocurrency? Cryptocurrency, crypto-currency, or crypto is a digital currency designed to work as a medium of exchange through a computer network.

Cryptocurrency gifts to RISD can be made quickly and easily on our secure online giving site.

RISD accepts gifts made in the following types of cryptocurrency: Bitcoin (BTC), Ethereum (ETH), Bitcoin Cash (BCH), Litecoin (LTC), Zcash (ZEC), Chainlink (LINK), Basic Attention Token (BAT), Dai (DAI), Orchid (OXT), Storj (STORJ), Amp (AMP), 0x (ZRX), Alchemix (ALCX), Sandbox (SAND), Injective Protocol (INJ), PAX Gold (PAXG), UMA (UMA), Enjin Coin (ENJ), Filecoin (FIL), Ankr (ANKR), Tezos (XTZ), Maker (MKR), Loopring (LRC), The Graph (GRT), Dogecoin (DOGE), BarnBridge (BOND), Aave (AAVE), Compound (COMP), Skale (SKL), Yearn Finance (YFI), Curve DAO Token (CRV), Mirror Protocol (MIR), Livepeer (LPT), Bancor (BNT), Balancer (BAL), Mana (MANA), Synthetix (SNX), Gemini Dollar (GUSD), Fantom (FTM), Uniswap (UNI), Kyber (KNC), SushiSwap (SUSHI), Cube (CUBE), Ren (REN), 1inch (1INCH), Polygon (MATIC)

Please note that there are minimums for crypto donations. Please contact us with any questions.
RISD encourages and appreciates gifts in kind, such as industry equipment, studio supplies, library archive collections and other materials that RISD would otherwise need to purchase. Through gifts in kind, supporters help RISD strengthen programs and improve facilities to provide the best possible educational experience for our students. For more information, please contact Serena Livingston, Recording Secretary and Director of Gift Administration, at recsec@risd.edu or call 401 454-6325.
Link copied to clipboard!