About Crystal Williams
Image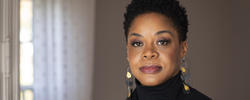 As our 18th president, Crystal Williams leads RISD in advancing and amplifying the power of art and design in a changing world, and fostering a campus and community that centers equity and inclusion in all we are and do.
Read Williams' full bio
"We are galvanized to create art and design spaces, classrooms, and practices that reflect the full breadth of human dynamism and a belief that what makes us distinct from one another is precisely our strength."
— from President Williams' October 7, 2022 inauguration address
A vision for teaching and learning
Informing President Williams' work and leadership is her belief in RISD's responsibility to amplify the talents of our students, and respond to their needs.
Image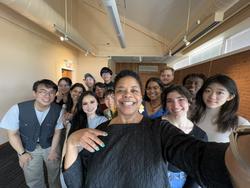 Image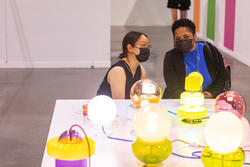 Image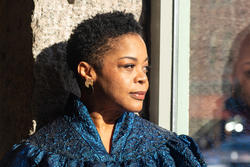 Select interviews
"The art world is becoming more inclusive. But as with all change there is much to do and a long way to go… " (The Public's Radio, Feb 2, 2023)
"We need all artists speaking with the fullness of their voice... . This is one of the ways we might be able to find our way back to one another." (Rhode Island Monthly, Sep 19, 2022.)
"We are most powerful, creative, and effective when we value and amplify heterogeneity—and when we harness it in the service of others." (Interior Design, Aug 16, 2022)
Community announcements
Mar 1, 2023
Long-view financial planning
As promised in Tuesday's 2023-24 tuition increase communication, this memo addresses how we will collectively undertake a long-view strategic financial planning initiative. As I stated on Tuesday, we are committed to achieving a balanced budget and operating within our means, while raising tuition and room and board as little as possible. We are also committed to continuing to support our most financially disadvantaged students, expanding our financial aid program as possible, and investing in and ensuring the exceptional quality of our students' RISD experience.
To achieve this vision in the year ahead, we have to raise tuition and identify manageable ways to reduce discretionary operating costs, which the Budget Office will work with departments to do. This is not an unfamiliar situation for us; for many years, RISD has faced financial challenges and expenses that have outweighed revenues. This is partly due to the expense of the unique form of education we provide, characterized by small class sizes, high faculty-to-student ratios, studio and material practices, supporting organizational infrastructure and specialized and historic facilities. Another factor is an enduring set of unaddressed or unresolved administrative, academic and cultural complexities that have resulted in unsustainable practices and inefficiencies.
I believe the time has come for us to address and solve these complexities once and for all, and this is work that we must undertake collectively. Today I am announcing two ways we will do this: first by creating an Efficiency Innovation Fund and second by convening a Financial Sustainability Task Force. We are in the early stages of developing both but, in the meantime, I want to give you a sense of what each of these approaches will entail.
Efficiency Innovation Fund
Over the past several years, there have been multiple operating budgets decreases, which have left many units operating very leanly. And this year again we need to decrease discretionary operating costs in order to achieve a balanced budget. I recognize that this can be disheartening and interrupt necessary initiatives designed to augment our efficiencies. So, we are creating the Efficiency Innovation Fund as a source for funding initiatives that increase operational efficiency and effectiveness. I anticipate that we will be back in touch by the end of spring semester to provide more details about this fund and inform you of how your unit can apply for this funding.
Financial Sustainability Task Force
This spring I will create the Financial Sustainability Task Force charged with broadly identifying and assessing the administrative, academic and cultural factors that point to opportunities for heightened efficiencies and developing and recommending interventions based on what is possible, practical, sustainable and necessary. Such work is challenging because of the complexities, interconnections and interdependencies of the RISD ecosystem and because it will require that we grapple with and challenge some longstanding practices and structures. The work is also exciting because it will elicit our best, boldest and most innovative creative thinking and will facilitate and enable RISD's ongoing fiscal health. I believe it is work rooted in optimism, given our strength in art and design education, global reputation, student experiences and alumni satisfaction rates. I will be forming the task force in the coming months and be back in touch to announce its members.
The work of the task force and the implementation and integration of initiatives that emerge from the results of its work will be an ongoing effort for at least one year and likely two. In the meantime, once our new senior vice president for finance and administration is hired and acclimated, the Budget Priorities Committee will continue to undertake its more localized work and collaborate with the task force as appropriate.
I look forward to the complex, collective work ahead because we will make way for new possibilities by grappling with these persistent questions. One of the things I have loved about being at RISD is the ambition we all have for this institution and for our students—and that we ask difficult questions of ourselves and others and iterate to ensure superb outcomes. My belief is that by tackling these hard questions now—in earnest, with courage, and with a pragmatic and strategic eye—we will further enable our ambitions. As we look to our future with hope and optimism, we have an opportunity to shed the practices and structures that do not fully amplify our excellence but at times inhibit it. We're at an exciting time in RISD's history, and I'm thrilled to be here with you now as we work together to achieve the good things to come.
Feb 28, 2023
2023–24 tuition, fee, and room and board rates
My primary goals as president are to ensure the continued strength of RISD, the continued excellence of our academic program, and the education and advancement of the world's most promising creatives. With that in mind, I write to inform you of the tuition, fee, room and board rates for the 2023–24 academic year, which the Board of Trustees approved at their recent meeting.
We are committed to achieving a balanced budget and operating within our means, while raising tuition and room and board as little as possible. We are also committed to continuing to support our most financially disadvantaged students, expanding financial aid when possible, and to investing in and ensuring the exceptional quality of our students' RISD experience.
This year, as costs have risen significantly on everything from energy, housing, food, materials, and staffing, the cost of the education we provide has also increased. As a result, next year we will increase tuition and room and board charges by 4% (see rates below), which is the minimal amount we believe is fiscally responsible. Student fees will not change. To ensure that our most financially disadvantaged students are not impacted, we will increase the financial aid budget by approximately 7% next year.
Relatedly, to keep our tuition increase as low as possible, we are decreasing discretionary operating costs in some areas by approximately 3% and will begin working with faculty and staff to determine how those cost savings can occur over the course of the next academic year. Faculty and staff, the budget office will be in touch with your department over the next month to help with this endeavor and I will be in touch to outline our plan to undertake strategic, long-view budget planning.
Finally, we will continue to invest in endeavors and areas that advance our strategic priorities and are focused on operational efficiency, effectiveness and revenue generation.
The cost of higher education in our country is a significant challenge for students and families and you have my commitment to keep cost increases as low as possible while ensuring that we provide an exceptional RISD experience.
Students, I wish you an invigorating and rewarding spring semester.
Sincerely,
President Crystal Williams (she/her)
Rhode Island School of Design Tuition and Fee Schedule
2023–2024 Academic Year
Effective Summer 2023
| | |
| --- | --- |
| Full-time comprehensive tuition—fall, wintersession and spring semesters | $58,690 |
| Room and board—fall, wintersession and spring | $15,850 |
| Student activities fee (full-time) | $270 |
| Academic and technology fee | $800 |
| Total cost of attendance | $75,610 |
Feb 21, 2023
Move of CE, EE and Institutional Data to the Office of Strategic Initiatives
With the upcoming March 1 arrival of Bethany Jankunis, our incoming vice president for strategy & planning / senior advisor to the president, I am writing with news of administrative moves related to the strategic initiatives area she will lead.
Our Continuing Education program has been a crucial externally-facing gem of RISD. Over the years, we have served thousands of children, pre-college artists and lifelong learners. CE provides essential access to quality art education to non-degree-seeking students of all ages, significantly expands our institution's reach and reputation and, in the case of pre-college students, serves as a critical introduction to RISD to many young people who later are accepted into our undergraduate program at much higher rates than non-pre-college applicants.
Moreover, we recently launched Expanded Education. When fully mature, Expanded Education will provide courses, training and consultancy to executives, corporations and individuals interested in learning new leadership skills utilizing uniquely RISD ways of thinking and making.
The success and growth of Continuing Education and the emerging Expanded Education programs are very important to our future for the above reasons concerning access, reputation and revenue growth.
Given this importance, I have decided to move EE on April 1 and CE on September 1 to the new Office of Strategic Initiatives to enable several things in the immediate term:
Emphasize the importance of these endeavors to internal and external constituents.
Catalyze growth.
Situate these endeavors as close to the decision-making locus as possible while we grow and extend the reach of both.
CE, under the leadership of Interim Director John Murphy, and EE, under the leadership of Director Sean Kennedy, will continue to work closely with the Office of the Provost, particularly Vice Provost Sarah Cunningham and her group focused on external partnerships.
I want to thank Sarah Cunningham for her leadership of these essential endeavors and John Murphy for seamlessly stepping in to lead CE after Sarah Caggiano's recent departure. In addition, I thank the members of our departments and shops who play a role in supporting CE endeavors. CE and ExEd's success is very important to RISD's success.
In addition, we are also moving Institutional Data and Research to the Office of Strategic Initiatives to ensure absolute alignment of strategy and planning with our invigorated focus on data and data-informed decision making. Executive Director of Accreditation and Institutional Effectiveness Jennifer Roberts and her team will move on March 1.