Commencement
Fun and relatively informal, our colorful ceremony is a spirited, celebratory salute to our newest art and design standouts.
Weekend highlights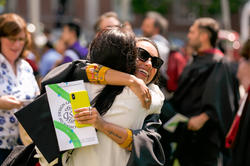 Students, families, friends, faculty and alumni joined together to welcome RISD's newest alums into the fold.
2023 speakers and honorees
Ari Shapiro — keynote speaker
Ari Shapiro has been one of the hosts of All Things Considered, NPR's award-winning afternoon newsmagazine, since 2015. He has reported from above the Arctic Circle and aboard Air Force One and has covered wars in Iraq, Ukraine and Israel.
Shapiro spent two years as NPR's international correspondent based in London, traveling the world to cover a wide range of topics for NPR's news programs. His overseas move came after four years as NPR's White House correspondent during President Barack Obama's first and second terms.
Shapiro has won two national Edward R. Murrow awards, a laurel from the Columbia Journalism Review, the Silver Gavel Award from the American Bar Association, the American Judges' Association American Gavel Award and the Daniel Schorr Journalism Prize.
An occasional singer, Shapiro makes frequent guest appearances with the "little orchestra" Pink Martini, whose recent albums feature several of his contributions, in multiple languages. He was born in Fargo, ND, grew up in Portland, OR and is a magna cum laude graduate of Yale University.
Walter Hood — honorary degree
Walter Hood is the creative director and founder of Hood Design Studio in Oakland, CA, a cultural practice focused on art, fabrication, design, landscape, research and urbanism. He is also the David K. Woo Chair and Professor of Landscape Architecture and Environmental Planning at the University of California, Berkeley, and a recipient of the 2017 Academy of Arts and Letters Architecture Award, a 2019 Knight Foundation Public Spaces Fellowship, a 2019 MacArthur Fellowship, a 2019 Dorothy and Lillian Gish Prize and—most recently—the 2021 United States Artists Fellowship.
Hood creates urban spaces that resonate with and enrich the lives of current residents while also honoring communal histories. He melds architectural and fine arts expertise with a commitment to designing ecologically sustainable public spaces that empower marginalized communities. He has transformed traffic islands, vacant lots and freeway underpasses into spaces that challenge the legacy of neglect in urban neighborhoods.
Hood Design Studio's award-winning work has been featured in such publications as Dwell, The Wall Street Journal, The New York Times, Fast Company and Architectural Digest.
Do Ho Suh — honorary degree
Do Ho Suh BFA 94 PT works across diverse mediums, including drawing, film and sculpture, to confront questions of memory, psychic space and displacement. Born in South Korea, Suh studied at Seoul National University and later moved to the US to study at RISD and Yale. His work draws attention to how we inhabit the public space around us. Many of his pieces defy standard notions of scale.
His work is featured in collections worldwide including MoMA, New York; Whitney Museum of American Art, New York; Los Angeles County Museum of Art (LACMA); National Museum of Modern and Contemporary Art, Seoul; and Tate, London. He was the recipient of the 2017 Ho-Am Prize and represented Korea at the Venice Biennale in 2001 and the Architecture Biennale in 2018. Recent solo shows have been presented at MCA Sydney (2022), LACMA, Los Angeles (2019); V&A, London (2019); Museum Voorlinden (2019) and Smithsonian American Art Museum, Washington (2018). Suh lives and works in London, UK.
Link copied to clipboard!
Questions about Commencement?
More Commencement stories
The RISD community comes together to honor graduating students driving change and to welcome new president Crystal Williams.
An in-person and online Commencement ceremony features student leaders from the classes of 2020 and 2021 and an eclectic array of honorary degree recipients.
Forced to postpone Commencement, the RISD community came together virtually to congratulate this year's graduates.