Community and Culture Assessment
Image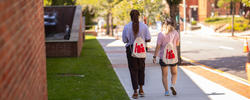 Overview
When President Williams arrived here last April, she made it a priority to learn how the people who make up our campus community experience RISD. Listening sessions and informal conversations have provided a broad sense so far, but to ensure this is a place where everyone thrives, we need nuanced, sophisticated data to better understand the aspects of living, working and learning at RISD that are going well and the areas in which we can improve.
Toward this end, we are conducting a campus-wide climate assessment. A climate assessment looks at the attitudes and behaviors of the members of a campus community as well as institutional policies and procedures. Taken together, these influence the level of respect for individual needs, abilities and potential.
Our climate assessment will begin with focus groups, to be held in spring 2023, followed by an all-campus survey distributed in the fall. Information gleaned from the focus groups and the survey will allow us to accurately articulate our challenges and strengths and identify meaningful opportunities to make RISD a place where everyone thrives.
Participants' input will inform how we go forward together, not only in how we enhance and replicate programs and policies that support our community, but also in how we develop new programs and policies and implement strategies to grow inclusivity where needed.
To help lead the 1.5-year long effort, we have partnered with Rankin Climate, LLC, which has conducted more than 250 campus climate assessment projects over the last 22 years. A working group of RISD students, staff and faculty will work with Rankin to develop and implement the assessment. The working group's co-chairs are Tony Johnson, associate dean for student social equity and inclusion and interim assistant vice president for social equity and inclusion, and Jennifer Roberts, executive director of accreditation and institutional effectiveness.
If you have any questions about the climate assessment, please email climate@risd.edu.
Understand the process
Learn what you need to know about our collaborative, community-based climate assessment initiative and how your contributions can help shape the future of RISD for years to come.
View Rankin's introductory presentation
Available here for download, Rankin Climate's intro to this initiative outlines their guiding principles, evaluation process and model for transforming the climate of a college campus.
The presentation lays out the stages, timeline and projected outcomes of Rankin's work, as well as how RISD's vision, mission and values will inform the assessment and vice versa.
See a detailed breakdown of the stages in our campus climate assessment, including milestones for RISD participation in this critical, community-wide initiative.
Want to know more about the assessment? Use our FAQ for a deeper dive into the initiative, including background, useful definitions and additional info about the assessment process.