Design Engineering
Image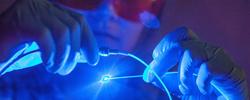 A partnership between RISD and Brown University, the Master of Arts in Design Engineering (MADE) is an intensive program that fosters innovation at the intersection of design and engineering.
Collaboration is central to the program, as you work with a range of experts to envision alternative frameworks for addressing public health, education, climate change and more. Here you develop effective solutions through iterative making and testing and express ideas through the objects you create, towards an ultimate goal of improving lives.
Iterating with intention
In this intensive, 11-month program, MADE students use creativity, analytical reasoning and research skills to produce work that responds to small- and large-scale challenges. You work primarily in studios and shops, including a well-equipped maker space for prototyping, and form strong connections within a close-knit cohort of designers and engineers. Additionally, you engage in project-based work with professionals in museum education, healthcare safety and aviation design, among other fields.
MADE students also benefit from the complementary strengths of RISD and Brown, neighboring world-class institutions on Providence's East Side. Close academic ties make it easy for you to broaden your knowledge through elective coursework or access to campus resources.
The program also lets you collaborate with faculty who support students in synthesizing the perspectives and contexts you will encounter in practice. Iterating with intention, MADE participants create and refine work according to real-world needs.