Sara Ossana
Critic - Furniture Design
Image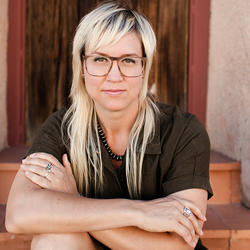 MIA, Rhode Island School of Design
Originally from Arizona, Sara Ossana is an artist and designer with an MDes in Interior Architecture from RISD and a bachelor's in fine art and English literature from Rice University. She teaches in RISD's Furniture Design and Interior Architecture departments and was a full-time faculty member in the Theatre Arts and Performance Studies department at Brown University.
Ossana is a founding partner and former co-owner/creative director of O&G Studio, an award-winning furniture company focusing on American-made contemporary furniture and accessories. Her design work has garnered International acclaim and was featured in the London Design Museum as a Beazley Design of the Year recipient in 2017, was a Best of the Year Award finalist with Interior Design Magazine for product design in 2018, and was also nominated for a Best of Year award by the German Design Council in 2018. She is a member of the New York-based Female Design Council and has had design partnerships with Williams-Sonoma and Tommy Hilfiger. She has been published extensively both domestically and abroad in shelter and design magazines including The World of Interiors, Architect's Newspaper, Dwell, The New York Times, The LA Times, Interior Design Magazine and Architectural Digest and was named one of Ten Contemporary Designers to Collect Today by Vogue.
Early in her career Ossana worked in architecture firms focused on high-end residential, retail, restaurant and hospitality design. As a multidisciplinary designer she has worked in the art departments of films including Brokeback Mountain. She founded her own design studio in 2005 and has an extensive professional career as a theatrical set designer, designing more than 50 productions and working as a visiting artist at Brown University, Connecticut College and many professional theaters, including the Public Theatre in New York City.
In 2019 Ossana founded Studio MO, named after her father who passed unexpectedly of cancer in the summer of 2018. The studio focuses on research and development and cross-industry connectivity and explores initiatives balancing business development and social responsibility. A recent project rethought the assisted living housing model, drawing attention to the aging population in society.
An academic all-American and Division I collegiate basketball player, Ossana has been a lifelong athlete. Currently living in the East Bay of Rhode Island, she is proud to also be a living index of all oyster bars in the region.
Academic areas of interest
Design identity in the contemporary media landscape
Design as a driver of social change
Issues of female and female-identified individuals in the design industry
Domestic manufacturing
Design for production
Fostering design critique discourse both in academia and professional practice
Exploring the ability of design to reframe perceptions of social issues impacting underserved populations, such as women and the elderly
Innovation in healthcare design
Fall 2022
FD-2580-01 Advanced Furniture Studio

FD-2580-02 Advanced Furniture Studio

FD-2582-01 Professional Practice

FD-3350-01 Story Exploder

INTAR-3350-01 Story Exploder

NMSE-8900-20 ISP Non-major Elective
Summer 2022
INTAR-2322-01 Introduction To Design Studio I: Spatial Investigation/drawing & Making

INTAR-2322-02 Introduction To Design Studio I: Spatial Investigation/drawing & Making

INTAR-2322-03 Introduction To Design Studio I: Spatial Investigation/drawing & Making

INTAR-2324-01 Introduction To Design Studio I: Existing Construct

INTAR-2324-02 Introduction To Design Studio I: Existing Construct

INTAR-2324-03 Introduction To Design Studio I: Existing Construct

INTAR-2326-01 Introduction To Design Studio I: Transformation & Intervention

INTAR-2326-02 Introduction To Design Studio I: Transformation & Intervention

INTAR-2326-03 Introduction To Design Studio I: Transformation & Intervention
Wintersession 2023
FD-1825-01 Navigating The Furniture Industry

INTAR-1825-01 Navigating The Furniture Industry