Eric Telfort
Associate Professor
Image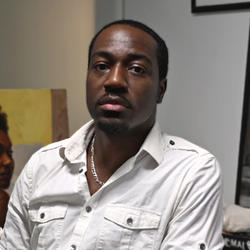 BFA, Rhode Island School of Design
Eric Telfort is an illustrator and fine artist who earned his BFA in Illustration from RISD and, after working as a production artist in the video game industry, an MFA from the New York Academy of Art. Telfort has lectured throughout the US and internationally in Zimbabwe, where he was a Visual Arts Initiative artist in residence. In 2019 he received a Robert and Margaret MacColl Johnson fellowship to explore the concept of creativity in poverty, and to pursue a personal independent visual novel.
Courses
Fall 2023 Courses
ILLUS 3956-01
CINEMATIC STORYTELLING
Start and End
2023-09-06 to 2023-12-13
Times: M | 1:10 PM - 6:10 PM
Instructor(s): Eric Telfort
Location(s): Illustration Studies Building, Room 413
Enrolled / Capacity: 15
Status: Closed
SECTION DESCRIPTION
Previsualization is an essential tool in both animation and live action filmmaking. Whether it is a feature film or a commercial, a television show or a short film, it's critical that storyboarding is the first directorial step of translating the written word to the screen. In a medium where collaboration is the norm, a story artist inherently becomes one of the most influential figures in a film's production, as every department builds upon the foundation of their work. In this course, we will go over the building blocks of visual storytelling and traditional filmmaking, culminating in a final project at the end of the semester. Lectures and screenings will explore the tenets of story structure, visual language, film grammar, and performance, all of which will be integrated into weekly assignments that exercise tried and true techniques of storyboarding method. The lessons in this course will give you a firm understanding of the art of storyboarding as it applies to the film and animation industry, and also a greater understanding of how to visually communicate with a level of clarity that you had not known before.
Open to Junior or Senior Illustration Students.
Elective
ILLUS 601G-01
GRADUATE ILLUSTRATION STUDIO III: SOCIAL ENGAGEMENT AND AGENCY
Start and End
2023-09-06 to 2023-12-13
SECTION DESCRIPTION
This course is predicated on deep student focus on social engagement and the societal benefits attached to their studio work. Students will investigate and critique methodologies of contemporary, socially engaged artists to develop their own progressive work in order to question and shift traditionally narrow and restrictive paradigms in Illustration that preference and reward the hegemonic at the expense of the progressive, dissident, and critical work needed to advocate for the historically underrepresented. Collaborative projects with local artists, individuals and community organizations will be encouraged and supported to directly connect students with local communities. Students will be required to present self-driven work periodically in response to selected topics, readings, and community discussion.
Estimated Cost of Materials: $0.00 - $150.00
Open to Graduate Illustration Students.
Major Requirement | MFA Illustration
Spring 2024 Courses
ILLUS 3936-01
CHARACTER CREATION
Start and End
2024-02-15 to 2024-05-24
Instructor(s): Eric Telfort
Enrolled / Capacity: 15
Status: Open
SECTION DESCRIPTION
In this course we will explore the process of designing characters as well as the objects they possess and the environments they inhabit. Through a series of projects that emphasize conceptual thinking and functional design, students will learn the problem solving skills used in design as a means of supporting a narrative. Full color works in variety of media will be critiqued on their clarity of vision and strength of presentation. This course is a continuation of the ideas presented in Character Design, and will serve both students who have taken that class and students new to this subject matter.
Open to Junior or Senior Illustration Students.
Elective