Adam Smith
Associate Professor
Image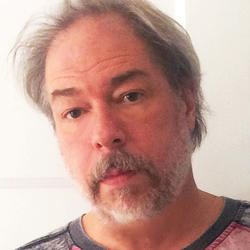 BFA, Rhode Island School of Design
on sabbatical fall semester 2022
After graduating from RISD in 1985, Adam Smith's first full-time design position brought him to Cambridge, MA where he developed one of the first 3D CAD applications. He teamed up with software engineers and created the hardware and software interface for this early 3D software. After completing the project, he relocated to San Diego to work as art director for NASA developing a booklet called Global Change. The publication was the first NASA document that acknowledged global climate change and was presented to the Reagan administration. It helped substantiate the fight against global warming, an issue receiving little attention at the time that has since risen to international importance. The graphics that Smith produced for the project can be seen throughout the book. Another aspect of the project was beta testing the new software Photo Shop 87 and Adobe Illustrator 88.
In 1989 Smith started his design agency Adam Smith Design. For over 21 years, his agency has specialized in providing product development in the areas of sporting goods, medical applications, jewelry, lighting, small and large electronic devices/computers, bicycles and bicycle-related products. Adam Smith Design has recently been active with mold tool and die designs for industrial applications. He provides clients with a wide range of design services that include front end design strategy and research, sustainable design development, styling and functional development towards physicality of a proposed product, 3D CAD engineering of products towards manufacturing and documentation, digital and traditional prototyping and fabricating, pre-press quality graphic design and packaging and product photography and website development.
While working at RISD in the mid '90s and early 2000s, Smith built up the Industrial Design department's first computer labs and designed the digital curriculum. He has also taught for six years, developed curriculum for ID sophomore studio and chaired the ID curriculum committee for three years.
Spring 2023
ID-1547-01 Ui/ux Design

ID-1547-02 Ui/ux Design

ID-2476-03 Designing With Solidworks