Patricia Barbeito
Professor
Image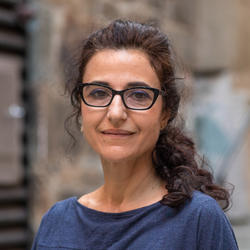 BA, Brandeis University
MA, Harvard University
PHD, Harvard University
on sabbatical academic year 2022–23
Patricia Felisa Barbeito (PhD, Comparative Literature, Harvard University) is Professor of American Literatures. She teaches courses on race and ethnicity in American literature; the African American literary tradition; captivity and prison narratives; magical realism; the Latin American novel; and noir fiction and film.
Currently, her research focuses on African-American literature and culture of 1940s-1960s, in particular the protest literature of the period. Based on this research, she is working on a book about African-American author Chester Himes titled, One Jump Ahead of Disaster: The Politics of Race, Interracial Sex, and Literary Style in Chester Himes's Writing.
She is also a translator of contemporary Greek fiction and poetry. Her translations include Their Smell Makes Me Want to Cry by Menis Koumandareas (co-translated with Vangelis Calotychos; Birmingham University Press, 2004), and, most recently, Elias Maglinis's The Interrogation (Birmingham University Press, 2013) for which she was awarded the 2013 MGSA Constantinides Memorial Translation Prize.