Half a Century of Activism
Image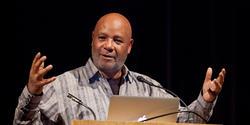 In delivering RISD's 2017 MLK Keynote address on January 20, artist, activist and pioneering Black Panther Party (BPP) member Emory Douglas connected the organization's revolutionary spirit in the 1960s to present-day resistance movements in the US and throughout the world. "All power to the people," the BPP's former Minister of Culture declared, invoking the influential group's watchwords mere hours after the US presidential inauguration, adding, "[It's] much needed today."
Speaking to a full house at the RISD Auditorium, Douglas wove together commentary on the artwork he created for The Black Panther newspaper and the party's legacy of community service with insight into his creative process and lifelong fight for global human rights. For members of the RISD and other local communities, his visit to campus shed light on the power of art and design to inform and inspire while challenging prevailing structures of inequality.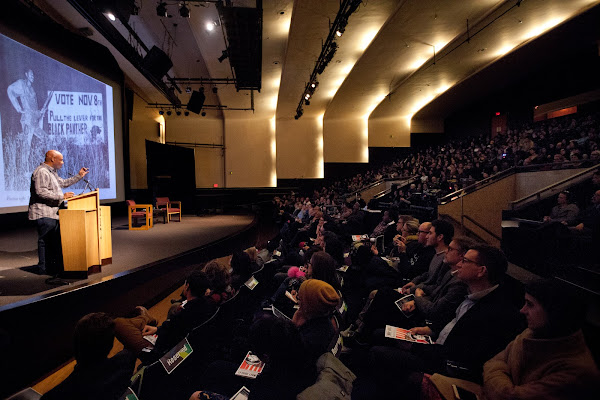 Following a short film about Douglas' life and work—which points out that he first gained graphic design experience while in a Bay Area juvenile detention facility—President Rosanne Somerson 76 ID welcomed the guest speaker as someone whose work epitomizes a "practice dedicated to activating social change." Dean of Architecture and Design Nancy Skolos praised him for "inventing a graphic language in the moment" of the civil rights era and in the process, of creating "the graphic novel of the Black Panther Party in real time."
"The Black Panthers were under attack. But you were given a responsibility to do what you had to do, so we did that. And we had some comrades who didn't make it."
Douglas began his presentation with a glimpse into the DIY toolkit he used to make such charged images as It's All the Same and Free the GI's along with design work he did for black-owned businesses and others supported by BPP community outreach. He emphasized local initiatives ignored by official accounts of party activity—public service efforts such as food drives and sickle-cell screenings—as well as the newspaper's essential role in exposing police brutality, housing discrimination and corporate control of public policy. "It's all the same," he said in comparing injustices of that era with those highlighted through the Occupy and Black Lives Matter movements.
"You have to adjust to the reality of the times. You build on the past in the context of what is."
More recently, Douglas has been engaged in a number of humanitarian art projects around the world, including a collaboration with Portuguese muralist Rigo 23 and Kiwi artist Wayne Youle for the 5th Auckland [NZ] Triennial in 2013 and a more recent project with students in the city's Nga Rangatahi Toa program for underserved young people. Among the triennial works he showed was one with a title that largely summarizes his body of work and service: Overcoming Oppression is Our Path to Unity.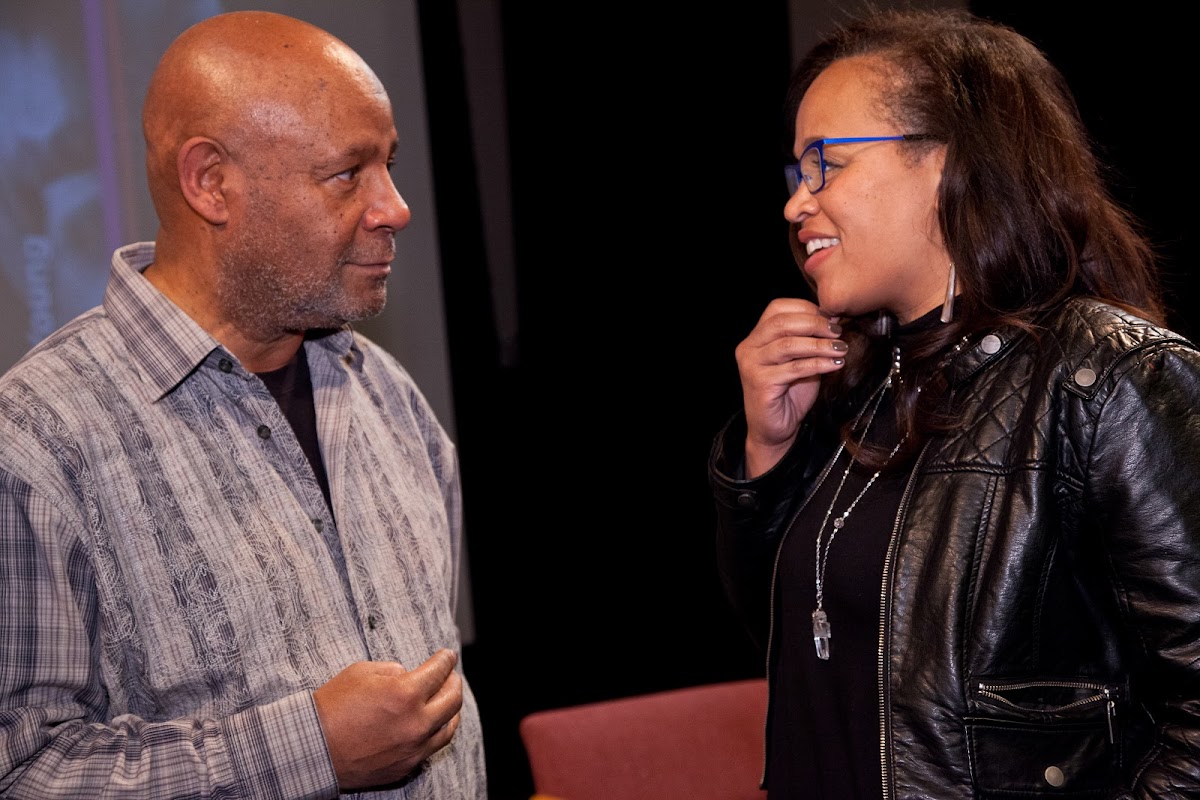 In the Q+A session that followed, audience members both questioned and applauded RISD's engagement with local communities of color and asked Douglas a range of questions, one of which led him to speak about the "revolutionary" aspects of Dr. King's legacy that are largely sidestepped in the popular narrative. "He spoke about racism, militarism and extreme materialism. In that context," Douglas says, "[King] was transformative."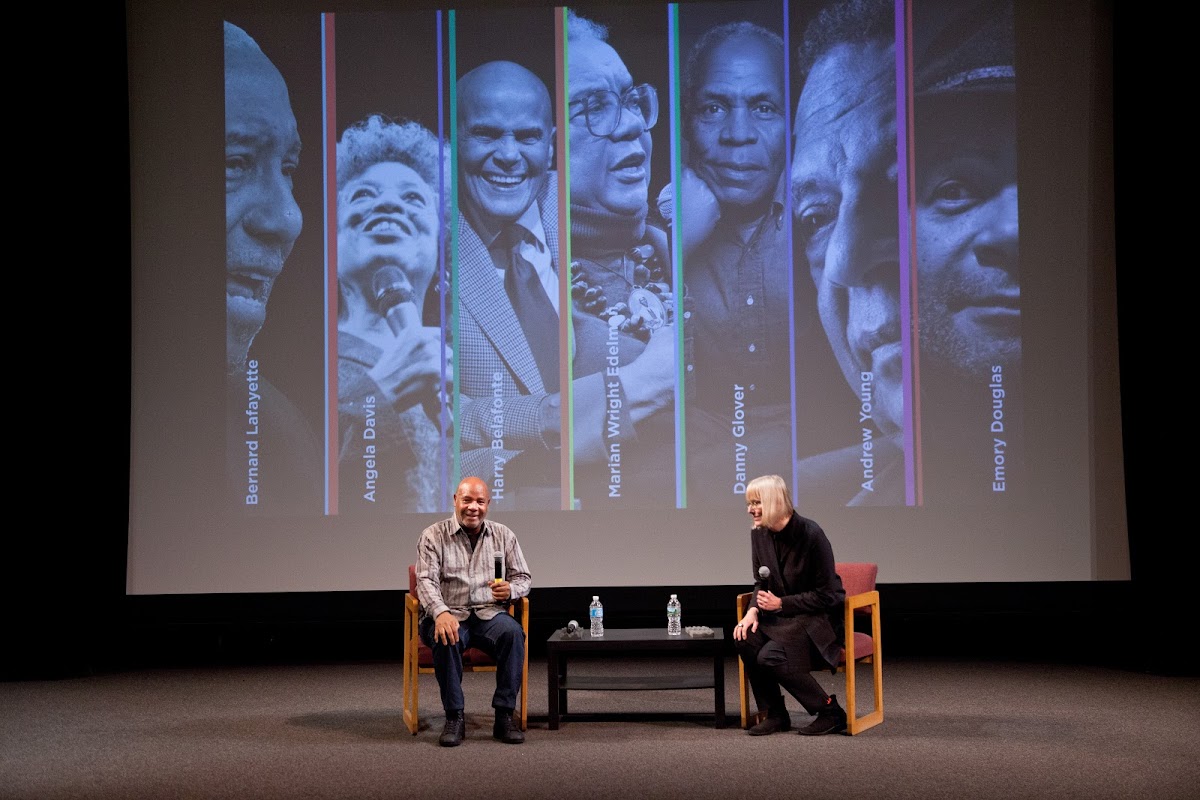 When one student asked how BPP members survived the racist violence of the 1960s and '70s, the speaker acknowledged it wasn't easy. "We were under attack but you were given a responsibility to do what you had to do, so we did that," he recalled. "And we had some comrades who didn't make it." And in response to a question about the value of political art, Douglas emphasized the importance of remaining informed. "You have to adjust to the reality of the times," he advised. "You build on [the past] in the context of what is."
—text by Robert Albanese / photos by David O'Connor