Indigenous Landscapes
Image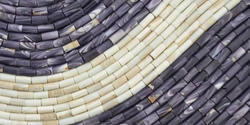 The Liberal Arts division kicked off its spring lecture series on Wednesday, March 10, with Indigenous Landscapes: Narragansett Homeland & History, a virtual talk led by Indigenous educators endawnis Spears and Cassius Spears, Jr. In introducing the husband-and-wife team, event organizer and History, Philosophy and the Social Sciences Department Head Lindsay French noted that RISD and the RISD Museum are committed to "amplifying voices and histories that have gone unacknowledged for far too long."
A member of the Narragansett tribe, Cassius began the lecture by pushing back on Western notions of history and time, reminding participants that Native peoples have been living on this land for 30,000 years. "And for us, time is not linear," he adds. "It moves and changes direction like a river."
"For us, time is not linear. It moves and changes direction like a river."
Cassius also notes that the histories and very identities of Native people are embedded in specific aspects of the landscape. Narragansett, for example, means people of the small point of land. He compared maps of southern New England made by settler/colonists and by Indigenous people, joking that the settler version calls to mind a segmented butcher's diagram labeling cuts of beef. "Western maps are based on manmade elements—state lines and roads—while Indigenous maps are about kinship systems," he says.
The Indigenous map Cassius shared reveals countless rivers and streams running through the area. "Waterways are like the Earth's circulatory system, the blood of our Mother," he says, "which hopefully makes people think differently about the way they treat the waterways." They also served historically as important transportation routes for Native peoples, he adds, especially for connecting various tribes in the region. The Providence neighborhood known as Federal Hill, for example, was once an important meeting place along the river for the Narragansett and Wampanoag tribes.
endawnis hails from Arizona and is of Diné/Ojibwe/Chickasaw/Choctaw descent. She is the director of outreach and programming and a founding member of the Akomawt Educational Initiative, an Indigenous education and interpretive consultancy for museums, K-12 schools and colleges/universities. She spoke about local tribes and also about Indigenous peoples across "Turtle Island" (the Native name for North America), focusing on the importance of learning from elders and passing down the traditions that keep Indigenous people connected to the land.
"This landscape is a space for tradition, stories, ceremony, practices, protocol, medicine, prayer, knowledge and subsistence," endawnis says. "Native people and cultures are so dynamic and so adaptable. We wouldn't be here today if that weren't true."
"This landscape is a space for tradition, stories, ceremony, practices, protocol, medicine, prayer, knowledge and subsistence."
In response to a question posed during the closing Q&A, endawnis noted that one way for settlers to build new relationships with Indigenous people is to make an effort to understand the policies surrounding tribal government and to use their votes and voices to support tribal sovereignty.
Do the Spears have any suggestions regarding sustainability and dwindling natural resources? "Connecting people with the environment is important," says Cassius. "We don't know how to address Capitalism since that's not something we created. But we have dealt with limited resources for generations and never had a problem with it."
—Simone Solondz
DeLesslin "Roo" George-Warren, a queer artist, researcher and organizer from the Catawba Indian Nation, will present the next lecture in the series on Tuesday, March 16. Visit liberalartsmasters.risd.edu for more information about the entire Decolonizing Nature, Rethinking Art and Design, Remaking Society speaker series.
March 15, 2021