(Re)connecting at the Design Portfolio Review
Image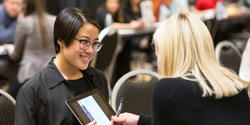 On Thursday, March 14, RISD Careers is again hosting the Design Portfolio Review, an annual opportunity for juniors, seniors and grad students to meet with representatives from more than 150 companies, studios, design firms and related organizations. At the review, students make meaningful connections in a series of one-on-one conversations with a diverse range of professionals.
Each year many alumni return to RISD as reviewers and here four of them—interior designer Kate Batelle 09 IA of NYC-based firm Fogarty Finger, visual designer Phoebe Morrison 17 GD from the global design studio frog, art director Tracy Shaw 98 IL of publishing company Hachette Book Group and Seth Snyder 08 ID, the head of user experience at Universal Robots—talk about their experiences on either side of the reviewer's table and what they hope to see and hear from the emerging designers they'll meet this year.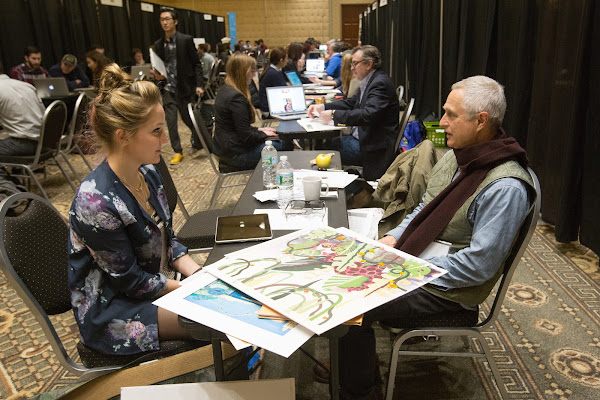 What is your previous experience with RISD's Design Portfolio Review?
Tracy Shaw: I have been a reviewer twice before. I'm always impressed with the students' level of talent and professionalism—and the prospect of finding someone to eventually hire as an illustrator is really exciting.
Kate Batelle: This will be my first time sitting on the reviewer's side of the table, but I did participate in the event as a student. [The Design Portfolio Review] was invaluable in preparing for the job/internship search. Learning how to best present my work—and practicing the storytelling around it—helped to build my confidence. It was a great opportunity to test my message and get feedback for strengthening my portfolio.
Seth Snyder: I attended many years ago when I was a student. The feedback I received from reviewers was a critical component of how I shaped my [professional] portfolio.
"I want to see both raw creativity and a high level of craft, as well as thoughtfulness and rationale."
Why are you coming back to RISD as a reviewer?
Snyder: I feel loyal to the school and would prefer to hire alums whenever possible. Also, I love visiting.
Phoebe Morrison: When I was a student it was so fun to see recent alumni back in Providence for the review. I'm excited to come back and share a little bit about my experiences at frog and [in my previous role at] IDEO.
Shaw: I truly believe I'll find artists I can hire for projects. It's happened many times for me and my coworkers [who have also attended Design Portfolio Reviews]. Even if it's not for something immediate, I've kept in touch with a few students to see how they progress and discover their strongest work.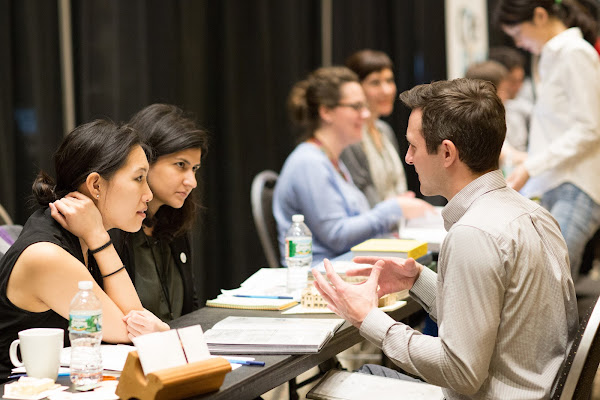 What are you looking for at the review?
Snyder: I'm looking for extraordinarily talented designers to hire for internships and full-time positions. Specifically, I want to see both raw creativity and a high level of craft, as well as thoughtfulness and rationale.
Batelle: Along with thoughtful graphic presentation, I'm looking for students who can tell a convincing story about the design decisions they've made. Explaining work with conviction is also important.
Shaw: I like hearing from students who are confident and enthusiastic about themselves but also open to comments on how to improve. I also love any promo material I can take with me—the more unique, the more memorable.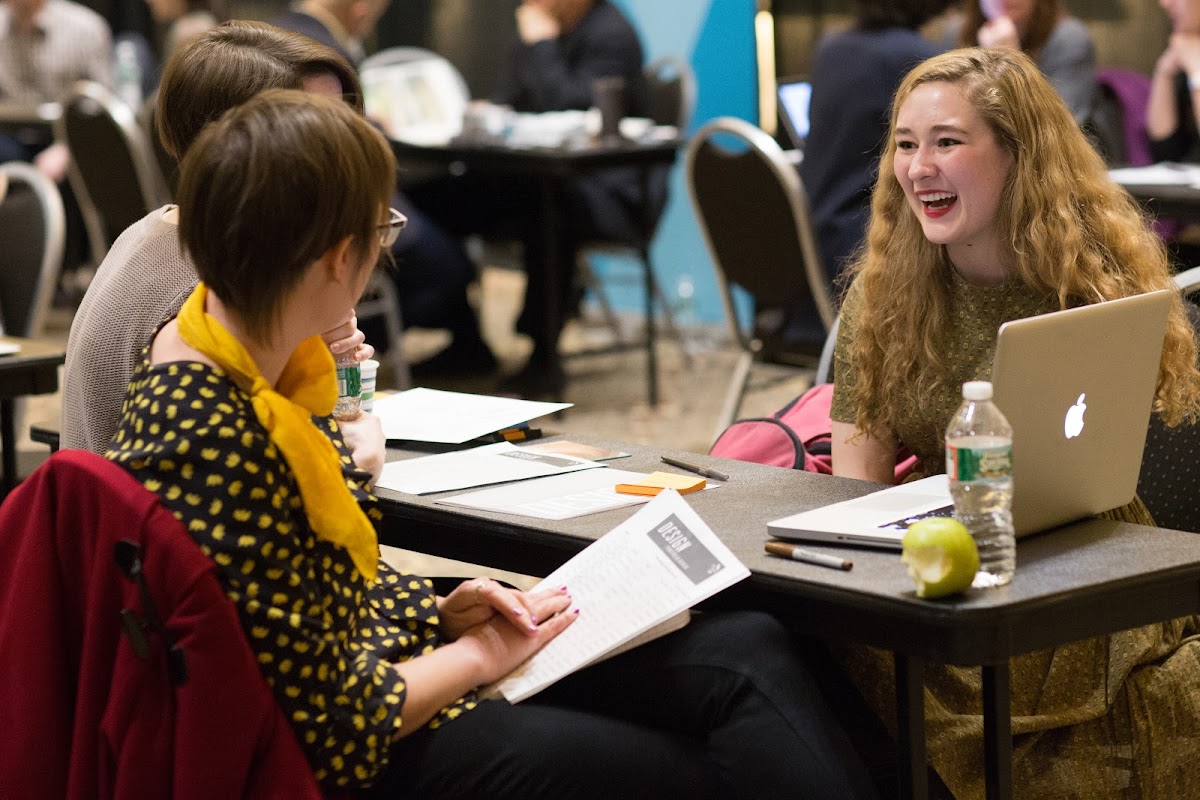 "RISD students are bright and insightful and always show the most consistent level of talent."
What do you think sets RISD students apart?
Snyder: Depth of thought, entrepreneurialism and creativity.
Batelle: Scouting talent at RISD is always interesting. While other schools may produce candidates with greater technical skills, students here often bring to the table a level of craft and artistry that's not easy to replicate.
Morrison: [RISD students] are fearless and ready to take on big, abstract problems.
Shaw: I've done reviews all over the country and find that RISD students always show the most consistent level of talent. They're bright and insightful.
—interviews by Robert Albanese / photos by Jo Sittenfeld MFA 08 PH
The Design Portfolio Review runs from noon–5 pm at the Rhode Island Convention Center. And plan ahead for the 2019 Fine Arts Portfolio Review on April 29.