Repair as Metaphor
Image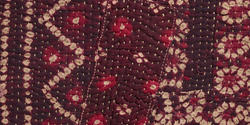 Curator of Costume and Textiles Kate Irvin has been working along with her colleagues to expand the RISD Museum's scope, focusing not only on exquisite pieces that once adorned the privileged few but also on garments and other objects used by working people around the world. Repair and Design Futures—a multidisciplinary exhibition and programming series on view through June 2019—invites viewers to consider the value these items bear in a consumerist world that usually moves much too fast for the accumulation of deep meaning.
The show investigates mending as material intervention, metaphor and call to action. Spanning the globe and more than three centuries, objects in the exhibition reveal darns, patches and other homespun repairs that highlight conservation as a metaphor for socially engaged design.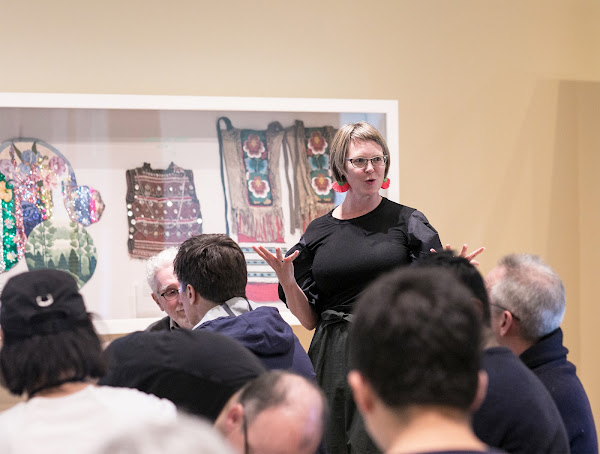 "The repairs are visual reminders of the rich lives these objects have led," notes Irvin. "We're hoping to inspire student makers entering a world where there's already too much—to help them see repair as a reaction to the unmaking of our environment."
On view in the museum's Upper Farago Gallery, Repair includes many recent acquisitions along with objects borrowed from Brown University's Haffenreffer Museum of Anthropology. A kantha quilt by an unknown Bengali maker from the 1800s is shown beside Poncho Poema, a contemporary piece by Mexican designer Carla Fernández and artisans from the collective Mujeres Conservando Raices(Women Preserving Our Roots). A collection of hastily darned stockings is treated with the same respect as a precisely repaired child's kimono dating back to 1950s Hiroshima that speaks to post-war reconstruction and personal healing.
"We're hoping to inspire student makers entering a world where there's already too much—to help them see repair as a reaction to the unmaking of our environment."
By marking the exhibition cases with green pencil, Irvin draws the viewer's eye to patches and embellishments added over the years that conceal original tears. These repairs celebrate the dialogue of old and new, she explains, and illustrate the fact that anyone can intervene and give worn objects new life.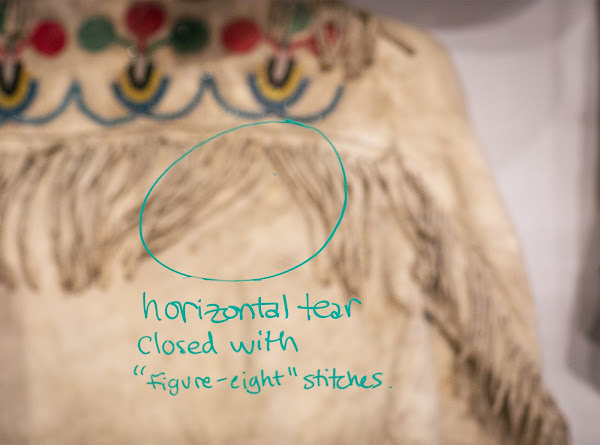 Also on view are sustainably created pieces from a wide range of sources: Native American garments whose makers respected what was taken from the earth by using every piece of material; a Korean pojagi or wrapping cloth circa 1950 pieced together from tiny fragments of leftover cloth. "Pieces like these speak to thrift and reconstruction as well as women's labor, which has historically gone unrecognized," Irvin explains.
Lost in the Museum, a smaller exhibition within the larger one, is on view in the museum's Donghia Costume and Textiles Study Center. Curated by Anna Rose Keefe, it features objects that have been separated from their labels and have thus "lost their narrative," as Irvin puts it. And downstairs in the museum's Café Pearl, a massive quilt installation co-created by master textiles artist Laverne Brackens and apparel designer Christina Kim (a 2017 RISD honorary degree recipient) provides a beautiful example of sustainable making, utilizing five years' worth of textile scraps from Kim's company dosa.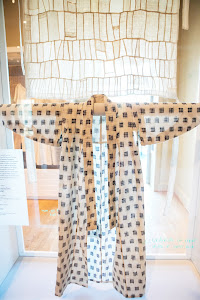 The gallery in which most of the work is displayed has been designed as a kind of classroom, inviting RISD students and other members of the community to come together and expand upon the ideas presented in the show. A panel discussion about socialism and design hosted by visiting scholar Alison J. Clarke celebrated the show's opening and connected the museum to the academic community. It was quickly followed by a visit from members of Providence-based arts collective WARP, who used the space as a public repair workshop.
Upcoming events include a series of performances by interdisciplinary artist Becci Davis, whose handmade, embroidered tablecloths incorporate narratives about Confederate monuments and consider the legacy of inherited racism; SORRY, A Live Listening Party, recorded stories about apologies, regret and reconciliation produced by Brown University's Now Here This; and Break Pot, a performance piece by Cambodian-American artist Amy Lee Sanford reflecting on the long, slow reconstruction that followed the Cambodian genocide of the 1970s.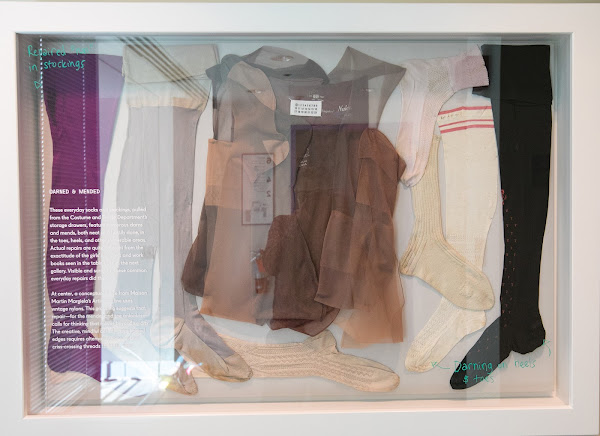 This programming, like the exhibition itself, reflects on "broken-world thinking" as conceived by scholar Steven J. Jackson, where breakage is viewed as potentially generative and repair as a creative solution to ruptures in the fabric of society. Repair and Design Futures acknowledges use, abuse, accident and error, demanding that we remember each object's history and meaning.
—Simone Solondz / photos by Jo Sittenfeld MFA 08 PH
October 19, 2018