The Skin I'm In (Now @RISD Museum)
Image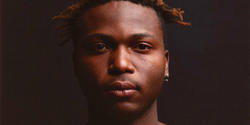 Photographer Nicole Buchanan 15 PH returned to RISD last Thursday (March 16) to talk about her compelling series The Skin I'm In. Since the RISD Museum recently acquired 10 of the 50 portraits she created as a senior, the photographer took part in an informal Q&A session with Curator of Prints, Drawings and Photographs Jan Howard in the museum's Café Pearl, where four of the works are on display.
As a black student at RISD, Buchanan said she often felt uncomfortable presenting race-related work at crits. To explore that discomfort, she reached out to other students of color at RISD, inviting them to sit for portraits as one way "to create community and spur conversation."
In speaking with Howard, Buchanan was matter-of-fact about her approach to the series, explaining that it took several attempts to get the mood and settings right. She also took enough photos so that she could select specific facial expressions that allow viewers to "look into the eyes [of each individual] and see what they want to see."
Photographing fellow students without any visible clothing, she added, removes any distractions as the viewer looks at each image and poignantly references documentation used in the slave trade—when each person sold was photographed fully naked and from various angles as a means of identification.
"I see meaning behind every choice you made in making these portraits," Howard noted. "And the consistency among the images highlights the individuality of each person."
—Simone Solondz