Justin Cook
Executive Director, Center for Complexity
Image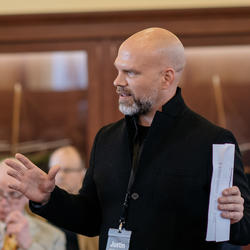 BARC, University of Washington
MARC, Harvard University Graduate School Design
Justin W. Cook is a strategic designer working on the world's most challenging problem sets, such as healthcare, sustainability and education. His passion is to tackle these systems challenges by designing innovative organizational architectures. Cook is founder of the strategic design consulting firm Commonwealth Advanced Projects and founding director of the Center for Complexity (CfC) at RISD, which works to reveal how design and other creative practices can navigate and manage complexity and uncertainty. In addition to projects on nuclear weapons and the future of food and cities, the CfC is running a professional learning program on strategic design and systems literacy in the US and India.
Until 2018 Cook was senior lead for strategy at the Finnish Innovation Fund, Sitra, where he spent a decade working to focus Finnish society on greater sustainability and human wellbeing. His portfolio included sustainability, decarbonization, impact investing and the future of education. In 2018, Palgrave published his book Sustainability, Human Wellbeing and the Future of Education.
While at Sitra, Cook was a founding member of the Helsinki Design Lab. He has advised research teams at MIT, Harvard and Johns Hopkins on how to use design in a transformative capacity. In 2016 he joined the OECD's Observatory for Public Sector Innovation as an advisor. Previously he was a faculty member and provost fellow at RISD.
Fall 2022
GRAPH-4545-01 Design For The Anthropocene

ID-4545-01 Design For The Anthropocene