Opportunities for Faculty and Staff
For faculty, academic program staff and RISD graduate students, the Center for Community Partnerships (CCP) supports your efforts in doing community-engaged work. Our team is here to help you integrate equitable engagement experiences into your courses, studio spaces, research and programs.
Available grants
See below to learn about our Engaged Opportunity Grants, which provide support for a wide range of community-engaged learning projects.
Available to: faculty and staff
Funding range: $100–500
The RISD Community Knowledge Fund provides compensation to community partners who bring their expertise and experience to our campus through educational opportunities or curricular engagements.
The fund is designed to create more equitable opportunities for knowledge sharing and learning, critical reflection, and relationship building with community partners.
The next application will open January 2023
Community Collaboration Grant
Available to: faculty and staff
Funding: $10,000 maximum
Purpose
Collaboration grants are one-time proof-of-concept practitioner grants that support projects and partnerships that: allow for RISD faculty and staff to learn from and build trust with communities; advance the sharing of knowledge around sustainability, social justice and innovation; collaboratively enhance capacity; and strengthen partnerships with community groups. The source of the grants are donations.
Selection criteria
The next application will open January 2023. CCP's advisory board members and staff will review proposals, with selections being made by applying the following criteria, as appropriate:
Contribution to RISD's goal of participation in high-quality community-engaged learning opportunities
Evidence of community-identified and/or project need
Feasibility of addressing specific need in partnership with the community/partner
Prospect for sustaining the community-engaged learning beyond the life of the grant
Expectations and deliverables
Grantees must submit an end-of-project report using the template provided. As appropriate, reporting may include feedback from community partners.
Grantees will provide documentation and evaluation of outcomes. Grantees may use an assessment tool of their own devising.
If applicable, grantees will also provide documentation and evaluation of the partnership, including community partner voice and feedback. Grantees may use a Partnership Assessment Tool.
Additional follow-up may be requested depending on the nature of the funding request.
The next application will open January 2023
Link copied to clipboard!
GivePulse Network
Our online hub for community engagement
Image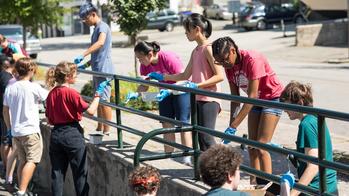 By connecting members of our campus community with nearby groups, organizations and service opportunities, the GivePulse community engagement platform helps facilitate many ways to do engaged work at and around RISD.
If you want to promote or are looking for community involvement opportunities, GivePulse makes discovery easier. By creating a GivePulse profile, you'll stay connected and aware of upcoming, ongoing and recurring community-based initiatives across and beyond our campus.
Academic resources
For scholars and practitioners interested in engaged work, the resources listed below offer vital support for successfully working collaboratively in community contexts.
Is there a resource you want to see here? Email community@risd.edu.
Publications and journals
Link copied to clipboard!
Let us amplify your work
Real, impactful community engagement is a core RISD value that runs through so much of what our faculty, staff and students do here. If you've led or been involved in a studio, research project or other engaged community collaboration, take a moment to tell us your story and we'll help spread the word.
Share your story