Brooks Hagan
Dean, Fine Arts
Image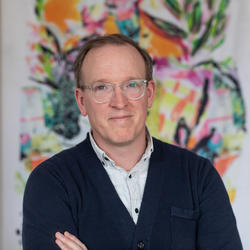 BA, University Of North Carolina
MFA, Rhode Island School of Design
Brooks Hagan has taught at RISD since 2006 and seeks to integrate hand-based practice with industrial manufacturing and new technologies. He has instructed students in Jacquard design for more than a dozen years and co-taught/created popular interdisciplinary courses such as Textiles Transforming into Furniture, Digital Sense and ADColab: Art and Design Interdisciplinary Collaboration in Theory and Practice. Hagan has participated in local collaborative educational projects with the RISD Museum and the Rhode Island Historical Preservation and Heritage Commission, engaged national corporate partners such as Fabricut, Inc. and KnollTextiles and organized international shows at venues such as the Salone del Mobile Milano and ICFF. He served as graduate program director and head of the Textiles department prior to appointment as interim dean of fine arts in 2020.
Hagan has worked with numerous companies on contract and residential textile collections and consulted on product design engineering for technology leaders such as Apple, Inc. A recent project with computer graphics scientists at Cornell and Stanford investigates advanced visualization for the design of constructed textiles and is supported by a $1.2M grant from the National Science Foundation (CHS: Medium: 1513954). Publications derived from this work that address historical industrial textile processes, the development of new software methodologies and the creation of design processes for volumetric weaving have been disseminated in such peer-reviewed journals as the Journal of Textile Design Research and Practice and presented at major academic conferences such as SIGGRAPH. Hagan's research with the Virtual Textile Research Group is funded by NSF and Under Armour and engages open questions of appearance rendering, yarn modeling, user experience, heritage textiles and various processes for volumetric and quantum weaving.
In 2015, after six years of research, Hagan co-founded the textile technology company Computational Textiles, Inc. (CTI) which was awarded non-dilutive NSF SBIR support to catalyze private sector commercialization of the most promising new technologies. In 2017 Computational Textiles launched Weft, an interactive platform that is now utilized by thousands of designers to create and visualize custom woven textiles for on-demand manufacturing. Hagan is currently working on a patent-pending process for the integrated design and production of complex soft forms such as footwear and accessories.
Hagan collaborates with many fine artists and works with the Dieu Donne Papermill in New York to explore paper materials and textiles. He maintains a studio practice centered on visual artifacts derived from industrial textile processes and has shown work at Futurescan UK and Tiger Strikes Asteroid LA. He is constantly evaluating the decorative and appropriative language of textile design and the continuum between singularity and reproducibility in finished work.