Gwen Van Den Eijnde
Associate Professor
Image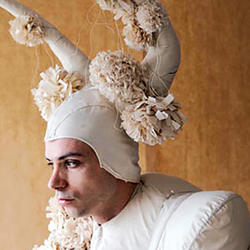 BA, Haute Ecole Des Arts Du Rhin
MFA, Haute Ecole Des Arts Du Rhin
Gwen van den Eijnde creates clothing, costumes and accessories that engage the viewer in an extraordinary fiction. He studied with Edith Dekyndt in the Atelier Textile of the Ecole Supérieure des Arts Décoratifs de Strasbourg (2000–05), participated in Robert Wilson's International Summer Program for performance arts at the Watermill Center in New York (2006) and was artist in residence at Akademie Schloss Solitude in Stuttgart (2008–09) and at the Center for Contemporary Art Ujazdowski Castle in Warsaw (2010).
Van den Eijnde earned the Audience Award for the best costume design from Luzerner Theater (2010) and worked with costume designer Olivier Bériot, choreographer Robyn Orlin as well as for Hermès atelier Petit h. Before joining the staff at RISD, he was visiting professor at the Fashion department of the Academy of Fine Arts in Warsaw and head of Textile Design at HEAR Mulhouse in northeastern France.
In 2014, thanks to a Travel Grant from Atelier Mondial, Basel, van den Eijnde traveled to Japan to research traditional Japanese textiles and the art of sculpting kimonos. In June 2016 he was awarded the Cultural Prize of the Alexander Clavel Stiftung in Riehen/Basel. He is currently an Andrew Mellon Fellow in the Costume and Textiles department of the RISD Museum.
Fall 2022
APPAR-3122-01 Sophomore: Identity/identities I (fall)

APPAR-3122-02 Sophomore: Identity/identities I (fall)

APPAR-3140-01 Senior Collection Development

APPAR-3140-02 Senior Collection Development
Spring 2023
APPAR-3121-01 Sophomore Apparel Studio

APPAR-3121-02 Sophomore Apparel Studio

APPAR-3123-01 Sophomore: Identity/identities II (spring)

APPAR-3123-02 Sophomore: Identity/identities II (spring)

APPAR-3135-01 Junior: Design II (spring)

APPAR-3135-02 Junior: Design II (spring)