Jackey Robinson
Lecturer Apparel Design
Image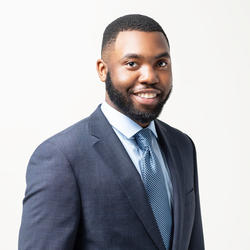 MArch, RISD
BS, Architecture, Morgan State University
Jackey Robinson is a young and thriving designer interested in the way we view, experience and contribute to space. Growing up in Washington, DC, he felt a need to better the lives and livelihoods of those around him. Early in his studies, he became interested in the social and communal aspects of architecture, specifically those pertaining to marginalized groups, and cooperative and participatory design has always resonated with him, especially projects restoring minority communities. Robinson is not only an architect but a designer constantly questioning how we as analytical thinkers can change the lives of those around us. He takes an interdisciplinary and multidisciplinary approach, questioning space-making through architecture, apparel, installation design and performative design.

Robinson's thesis focused on the multiplicities and innovative genius of the Black and brown LQBTQIA+ ballroom community. Using four clients (performers), three of whom are associated with ball culture, his thesis challenged the typical perspective on architects and designers, bringing the notion of Black queer joy into the architecture profession. Like architecture, ballroom is performative, involves specific parameters and requires performers to present and sell the final product, being open to criticism and judgment by the gatekeepers of the community. Robinson's identifying as a Black queer male has been positively affected by the ballroom community, a group of individuals that nurtured him during his teenage years, molding him into the person he is today.
Fall 2022
APPAR-3122-01 Sophomore: Identity/identities I (fall)

APPAR-3122-02 Sophomore: Identity/identities I (fall)
Wintersession 2023
APPAR-1750-01 The Category Is...bring It To The Runway!
Spring 2023
APPAR-3123-01 Sophomore: Identity/identities II (spring)

APPAR-3123-02 Sophomore: Identity/identities II (spring)