Jeung-Hwa Park
Assistant Professor
Image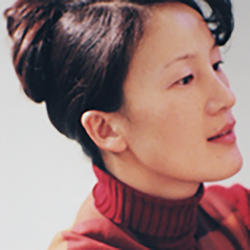 BS, Kyung Hee University
MA, Ewha Womans University
MFA, Rhode Island School of Design
Jeung-Hwa Park is an educator, creator and independent textile artist who showcases her work in museum exhibitions, galleries and respected craft shows in the US and abroad. After her college studies, she worked at Kolon Sport, one of the top-ranked sportswear companies in Korea, as a sportswear designer. Upon moving to America, she worked as a fashion reporter. She took photographs and wrote essays on current fashion trends in New York and Boston to send to Korean fashion magazines and fashion trend forecast companies. She gained further experience and a deeper understanding of textiles by earning an MFA at RISD.
After graduating, Park continued to vigorously pursue a career as an independent artist in the professional field of American craft. She has exhibited her innovative sculptural knitted work in exhibitions and has received awards from nationally recognized associations for artistic achievement. In addition, her knit work has been purchased for prestigious permanent fashion and textile collections by the Museum of Art and Design in New York, the Museum of Fine Arts in Boston, Fidelity Investments Art Collection in Rhode Island and the Hong Kong Design Institution Museum Collection.
More than a decade of teaching at RISD has taught Park valuable lessons as an educator. She rediscovered her love of teaching and gained confidence in her own teaching philosophy. She aims to stimulate motivation and potential in her students. Above all, she focuses on guiding her students to discover their own artistic expression.
Fall 2022
APPAR-3102-01 Sophomore Intro To Apparel Studio

APPAR-3102-02 Sophomore Intro To Apparel Studio

APPAR-3128-01 Junior Machine Knitwear Studio

APPAR-3128-02 Junior Machine Knitwear Studio
Spring 2023
APPAR-2212-01 Advanced Knitting

APPAR-3121-01 Sophomore Apparel Studio

APPAR-3121-02 Sophomore Apparel Studio