Meg DeCubellis
Senior Critic - Apparel Design
Image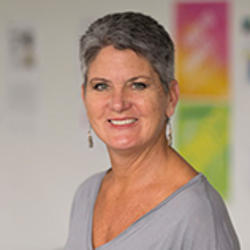 BFA, Rhode Island School of Design
Apparel Design alumna Meg DeCubellis 83 AP specializes in construction and development with a focus on the intersection of design and manufacturing. Her focus at RISD is on teaching the basics of drafting, draping, textiles and construction.
DeCubellis is mentor for the annual Supima Design Competition in which a new graduate is selected each year to create evening-wear looks using Supima denims, knits, velveteen, twill and shirting. The stunning results of this competition are shown as part of New York Fashion Week. DeCubellis has also coordinated the Rockport shoe competition May Each Step You Take Be Sweet, in which students design shoes out of candy donated by Dylan's Candy Bar in New York.
DeCubellis began her career in NYC at Jack Winter, Inc. and then worked for Mast Industries and The Limited. As design director at Cherry Tree, she oversaw the production of an infant/childrenswear line and earned an Earnie Award from Earnshaw's magazine for excellence in children's outerwear design.
DeCubellis is co-owner of illumiNITE reflective running and cycling gear, which is made locally in Fall River, MA. From her factory location, she also works closely with young designers on developing their collections as VP of Creative Design at Accurate Services.
In her short amount of spare time, DeCubellis runs a nonprofit, Katie DeCubellis Memorial Foundation, which was founded after the death of her daughter, Katie, at the hands of a drunk driver. Through the KDMF, she and her husband John have addressed more than 200,000 students and military personnel on good decision-making and the dangers of drunk driving and substance abuse.
DeCubellis lives in Narragansett with her husband John.
Academic areas of interest
DeCubellis has always been interested in the construction and function of garments. Her focus at RISD has mostly been with sophomore students and their foundation of drafting, draping, textiles and construction. She enjoys introducing students to local factories and small-batch manufacturing and how zero waste manufacturing can start at the earliest stages of design.
In her freelance design business, DeCubellis focuses on athletic clothing with reflectivity embedded in screen-printed fabric designs. She has redesigned the running and cycling gear collection for llumiNITE and continues to update and develop the line.
Fall 2022
APPAR-2215-01 Concept To Clothing

APPAR-3102-01 Sophomore Intro To Apparel Studio

APPAR-3102-02 Sophomore Intro To Apparel Studio
Spring 2023
APPAR-3121-01 Sophomore Apparel Studio

APPAR-3121-02 Sophomore Apparel Studio

NMSE-8900-12 ISP Non-major Elective