Edward Bartholomew
Critic, Architecture
Image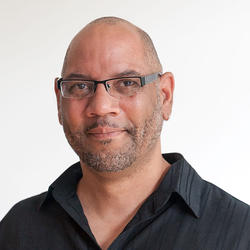 Edward Bartholomew is the principal of Bartholomew Lighting, a Black-owned design consultancy based in Cambridge, MA. He has more than 30 years of experience designing sustainable, inspiring and award-winning architectural lighting systems.
Bartholomew is an invited speaker on lighting technology, energy efficiency strategies and social justice at regional, national and international conferences, including co-presenting a seminal talk, Light & Justice with Mark Loeffler, at LightFair 2021. In addition, he co-teaches a graduate lighting class at Morgan State University, the first HBCU to ever receive a Nuckolls Fund for Lighting Education grant. And he co-hosts a podcast called Contrast Ratios that explores the awkward intersections of light in society.
Bartholomew has an MFA in Architectural Lighting Design (1995) from Parsons School of Design. He is a professional member of the International Association of Lighting Designers and is a LEED-accredited professional. He serves on the IES Diversity, Inclusion, Equity and Respect (DIER) committee and the DLC Industry Advisory Council. In addition, Bartholomew is a founding member of Black Underrepresentation in Lighting & Design (BUILD up).
Spring 2023
ARCH-2158-01 Environmental Design II

ARCH-2158-02 Environmental Design II