Hansy Better Barraza
Professor Emerita
Image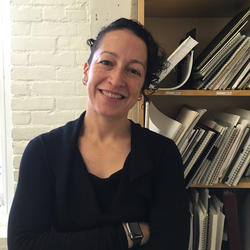 BARC, Cornell University
MAUD, Harvard University
Born in Barranquilla, Colombia, Hansy Better Barraza offers students an intense focus on design methods that embrace social responsibility. Barraza earned her BArch from Cornell University and MAUD in Urban Design from the Harvard Graduate School of Design. She joined RISD's faculty in 2002 and served as graduate program director from 2014–17.
Barraza's research focuses on the intersection of design methods, social practices and equity. In 2016 she was awarded a grant from the Graham Foundation for Advanced Studies in the Fine Arts to support the research, writing and publishing of her book Where Are the Utopian Visionaries? Architecture of Social Exchange. Barraza is also an editorial board member of Critical Productive Journal, which examines the intersection of architecture, culture and theory. Additionally, in 2007 she co-founded BR+A+CE: Building Research + Architecture + Community Exchange, a 501c3 non-profit dedicated to creating new spaces through community partnerships.
In 2002 Barraza founded Studio Luz Architects in partnership with Anthony Piermarini. Based in Boston with a satellite office in Providence, Studio Luz's designs have been widely recognized, receiving international honors including the Architectural Record Design Vanguard Award, a Progressive Architectural Award, multiple AIA Design Excellence Awards, the Architectural League of New York's Young Architect's Award and the Chicago Athenaeum's American Architecture Award.
Barraza's current professional appointments include service on the City of Boston Zoning Board of Appeals and on the Development Advisory Committee for the Woodbourne Neighborhood Association. Past professional appointments include membership in Commonwealth of Massachusetts Division of Capital Asset Management (DCAM) Designer Selection Board Panel, secretary for the Boston Society of Architects, trustee for the Boston Architectural College, commissioner of Education and Research for the Boston Society of Architects and membership in the Roslindale Village Main Streets (RVMS) Design Committee. She has also been a visiting critic and lecturer at numerous institutions, including Cornell University, Massachusetts Institute of Technology, Harvard University, Yale University, Columbia University and Northeastern University.
The Boston Business Journal and El Planeta highlighted Barraza as one of 20 Hispanic executives making a difference in Boston in 2021. She was also awarded the Women in Design Award of Excellence by the Boston Society of Architects in 2021.

Academic areas of interest
architecture
housing
humanitarian design
representation and architecture
fabrication
spatial practices
the everyday
vernacular typology studies
design research
design theory
design, ethics and responsibility
participatory design
sustainability
urban planning