Jonathan Knowles
Professor
Image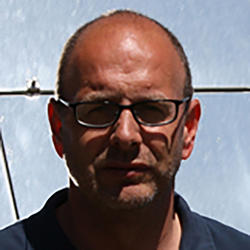 BARC, Rhode Island School of Design
BFA, Rhode Island School of Design
Jonathan R. Knowles brings his knowledge of building technology and experiments in unconventional construction systems to his teaching at RISD. Professionally, he has over 25 years of experience designing and managing large-scale architectural projects. Knowles has been teaching at RISD since 2001 He was co-project director for RISD's 2005 Solar Decathlon entry in Washington, DC and project director for RISD's 2014 Techstyle Haus entry in Versailles, France. He has taught at the Parsons School of Design, Cornell University and Columbia University.
Knowles is also a practicing architect and passive house consultant in Providence, where he is a partner at BriggsKnowles A+D. His work is dedicated to the design and construction of net-zero architecture. The work of the firm has been written up in such publications as Architecture Record, The New York Times and Dwell magazine.
Academic areas of interest
Jonathan Knowles' design studios and technology seminars are devoted exclusively to the subjects of performative architecture, defined as buildings that produce energy exclusively through the form of the building and/or the technical makeup of the enclosure. In 2008, he initiated the first of a series of pilot projects with the Department of Engineering at Brown University. The first researched new forms of thermal electric systems by developing a small-scale Stirling engine, and the second was the Techstyle Haus.
Techstyle Haus was built as a prototype to test the benefits of a broadly relevant building strategy: a way of designing and building based on highly engineered components and efficient construction. Totally solar powered and able to clean waste water, the building system has the potential to be implemented in various applications, including single- and multi-family housing; live-work, mixed-use utilitarian buildings and market sheds – in rural and infill contexts.
Fall 2022
ARCH-2178-01 Integrated Building Systems

ARCH-21ST-05 Advanced Studio
Summer 2022
ARCH-1560-01 *portugal: Design With and For Nature Azores

IDISC-1560-01 *portugal: Design With and For Nature Azores

NCSS-1560-01 *portugal: Design With and For Nature Azores
Wintersession 2023
ARCH-8965-03 Collaborative Study
Spring 2023
ARCH-21ST-02 Advanced Studio

ARCH-2253-01 Architectural Anatomy

ARCH-2253-02 Architectural Anatomy

ARCH-253G-02 Architectural Anatomy

ARCH-8965-01 Collaborative Study