Leeland McPhail
Critic
Image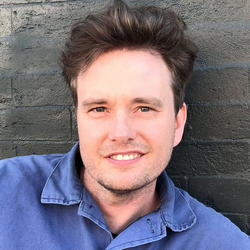 Leeland McPhail is founding principal of Here Here, a practice with one foot in community advocacy and the other in architecture. From his work with Ghana Free Community Libraries, he brings experience navigating the complex interrelationships of labor, ecology, economy and theory and a belief that the discipline of architecture has a responsibility to support and lift up communities.
Prior to founding Here Here, McPhail's work ranged from research on and design of mass timber construction with Gray Organschi to large-scale affordable housing developments with Bernheimer Architecture to obsessively designed and detailed commercial, cultural and institutional work with BLDGS. He also sees the need to step out of the pristine, controlled environment of the office and into a sometimes messy community. He's done this most recently in Atlanta, where he lived and practiced for the past few years, by leading projects for Neighbor in Need to combat gentrification and by organizing within his community to combat predatory development practices.
Before practice, McPhail was the Frederick C. Bland Scholar at Yale School of Architecture, where he earned his MArch. He earned his BSArch at Georgia Tech, where he was awarded the Alpha Rho Chi medal and was a President's Scholar. He works both locally and globally, and his work has been exhibited internationally.
Fall 2022
ARCH-2108-02 Urban Ecologies

ARCH-2199-01 Architecture Professional Internship

ARCH-8960-01 Professional Internship
Summer 2022
ARCH-2199-01 Architecture Professional Internship

ARCH-8960-01 Professional Internship

NMSE-8960-08 Professional Internship
Wintersession 2023
ARCH-2199-01 Architecture Professional Internship

ARCH-8900-01 ISP Major

ARCH-8960-01 Professional Internship

ARCH-8965-01 Collaborative Study

NMSE-8960-08 Professional Internship
Spring 2023
ARCH-21ST-06 Advanced Studio