Malcolm Rio
Assistant Professor
Image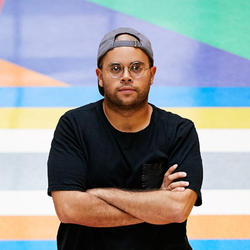 Malcolm Rio (he/they) is a Providence-based graphic and architectural designer and thinker. They are currently a PhD student in Columbia University's Department of Architectural History and Theory, where they research the historical intersections of race, sexuality, kinship and nation building in the 18th–20th centuries.
Rio holds a Master of Science in Architecture Studies (SMArchS) from Massachusetts Institute of Technology, where they were recognized with the 2019 SMArchS Thesis Prize and the Arthur Rotch Special Prize for research on the urbanism of house-ballroom culture in New York City titled Drag Hinge: "Reading" the Scales between Architecture and Urbanism (2019).
Additionally, Rio has earned a Master of Architecture from RISD, and both a Bachelor of Science in Philosophy and a Bachelor of Fine Art in Art + Design from Towson University. From 2015–17, Rio was among the inaugural cohort of AICAD Postgraduate Teaching Fellows, through which they taught at the Maryland Institute College of Art (MICA) in the areas of foundation studies, graphic design and architectural design.
Rio's scholarship, criticism and interviews have appeared in Thresholds, Avery Review, The New York Review of Architecture, ArchitectureMPS and Pidgin, as well as in forthcoming books like Living Room, a volume on sexuality, gender and architecture edited by Sophie Hochhäusl.
Fall 2022
LAEL-1022-01 Modern Architecture
Wintersession 2023
ARCH-2197-04 Thesis Discursive Workshop
Spring 2023
ARCH-21ST-05 Advanced Studio

ARCH-3215-01 Queer Atlas: Topographies Of Tamed and Wild Intimacies

IDISC-3215-01 Queer Atlas: Topographies Of Tamed and Wild Intimacies