Ryan McCaffrey
Critic - Architecture
Image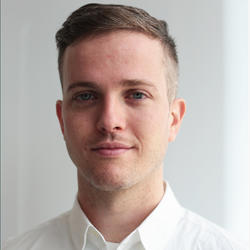 BARC, Rhode Island School of Design
BFA, Rhode Island School of Design
MARC, China Academy of Art
Ryan McCaffrey is the founding principal of Regional Building Group, a design practice that specializes in integrated residential, landscape and interior architecture. From 2013–19 he was based in Hangzhou, China, where he led cultural and residential architecture projects under Wang Shu at Amateur Architecture Studio. Alongside practice, McCaffrey teaches and writes about regionalism in architecture and its relationship to contemporary industrialized environments.
Courses
Fall 2023 Courses
ARCH 2178-03
INTEGRATED BUILDING SYSTEMS
Start and End
2023-09-06 to 2023-12-13
Times: F | 9:40 AM - 12:40 PM
Instructor(s): Ryan McCaffrey
Location(s): Bayard Ewing Building, Room 117
Enrolled / Capacity: 16
Status: Closed
SECTION DESCRIPTION
Conceived as the culmination of the technologies sequence of courses, this course allows students to choose amongst the three instructor's differing approaches to the problem of conceiving technology holistically, in relation to a set of architectural criteria. The conceptual and technical aspects of building systems are considered and emergent environmentally-conscious technologies are emphasized for research and application.
Prerequisite: All required technologies courses.
Majors are pre-registered for this course by the department. Enrollment is limited to Architecture Students.
Major Requirement | BArch, MArch (3yr), MArch (2yr): Architecture
Wintersession 2024 Courses
Period
Wintersession 2024
ARCH 2007-101
ARCHITECTONICS
Period
Wintersession 2024
Start and End
2024-01-04 to 2024-02-07
SECTION DESCRIPTION
An introduction to the principles of architectural design beginning with a close examination of materials, forces and the human body. The examination will progressively widen in scope to include issues of form, space, structure, program and site. This condensed architectural studio is intended for freshmen and students outside the Division of Architecture and Design.
Elective