Trevor Herman Hilker
Critic - Architecture
Image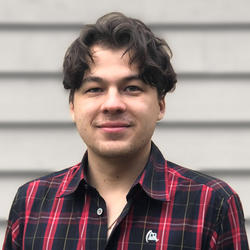 Trevor Herman Hilker is an architectural designer with an interest in speculative tools for the production, presentation and representation of architecture and its imaginaries.
Hilker holds a MArch from Massachusetts Institute of Technology, where his thesis—Other Stories—took on an interrogation of the mythologies through which Western modernity has generated and persevered, alongside an architectural exploration of their possible alternatives. He was the Albert Kahn Scholar, the Richard M. and Sidney K. Robinson Scholar and the Guido and Elizabeth Binda Scholar at Taubman College of Architecture and Urban Planning, University of Michigan, where he earned his BS in Architecture.
As a founding member of MIT's Critical Broadcasting Lab, Hilker's critical and curatorial work has been exhibited at the 2019 Seoul Architecture Biennale and the 2019 São Paulo Architecture Biennale. His design work has been published in Dimensions journal and Architect Magazine.
Fall 2022
ARCH-201G-01 Graduate Representation Studio: Drawings
Wintersession 2023
ARCH-2007-01 Architectonics

ARCH-8965-02 Collaborative Study

NMSE-8965-06 Collaborative Study
Spring 2023
ARCH-21ST-01 Advanced Studio