Movement Lab
Image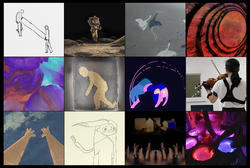 Hours
Mon–Fri: 9:30 am–5 pm
Contact
Auditorium Building
Room 525
Providence, RI 02904
The Movement Lab provides a space for investigations of the social, cultural, ecological and expressive properties of movement through experimental research, active learning and exchange. The lab houses technologies to study and create movement, as well as a growing collaborative archive of works generated within it.
Creative study of movement
Arising from RISD's unique approach to animation education and housed within the Film/Animation/Video (FAV) department, the Movement Lab is a center for exploring movement in multidisciplinary context.
Movement touches every art form and is central to many approaches to making and knowing. It is a fundamental language with which we express, inquire, converse and explore. Movement expresses notions of time and location, manners and social interactions, and complex human interrelationships. The art and study of movement can help us understand histories, migrations, emotions and ecosystems.
The Movement Lab offers a space for artists and scholars to explore properties of movement through technologies dedicated to movement analysis and experimentation, FAV courses, workshops, symposia and visiting artist series, and an archive of film, animation, recorded performances and movement references.
Movement Lab Fellowship
The Movement Lab Fellowship offers post-graduate artists and scholars the opportunity to focus on independent creative research that advances the study of movement into uncharted territory. The fellowship enables recipients to embark on projects involving animation, filmmaking, immersive arts, performance, game arts, dance, puppetry, robotics, kinetic sculpture and more.
Visiting puppeteer
Puppetry engages a range of disciplines, including performance, sculpture, textiles and illustration, with movement and gesture as the basis of identity. Through the generosity of RISD parent Cheryl Henson P 24, whose late father was internationally celebrated puppeteer Jim Henson, the Movement Lab will host RISD's first visiting puppeteer in Wintersession 2024. Over the course of five years, different visiting puppeteers will help students develop a foundational understanding of puppetry, a multicultural art form with roots in Africa, Asia, Europe, Mexico and the US.
About Film/Animation/Video
In FAV we explore time as plastic and material, both through technical study and practical experimentation. We study diverse works of art and time-based media, through which we decode the theory and histories of our mediums.
We are animators. We are live action filmmakers. We are open media artists. Students in FAV use paint, pencils, computers, cameras, hammers, light, and other tools that they invent or discover, to extend their mediums into new territory. These innovations are evidenced in the works that our gifted students and faculty make, which are exhibited throughout the world.
top image credits, from top to bottom, left to right: Lezhi Yu 24 FAV, Dawon Kim 20 FAV, Gordon Moore BRDD 20 FAV, Noah Gallagher 20 FAV, Meredith Binnette 20 FAV, Harriet Neeley 25 FAV, Sasha Lee 20 FAV, Red Hampton 25 FAV, Andreas Dutz 19 FAV, Sara Jekely 24 FAV, Emily London 19 FAV, Meiyi Zhou 23 FAV