Emily Cornell Du Houx
Lecturer - Furniture
Image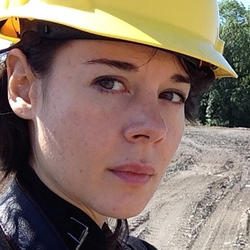 MFA, Rhode Island School of Design
Though most of her work focuses on the changing landscape and areas "off the map," Emily Cornell du Houx's practice covers a wide range of mediums and processes, from writing to photography, object making and commercial design. She has a BA in English from Amherst College, where her writing earned her the Gregg Armor Award for creative nonfiction, and an MFA from RISD in Sculpture. Her thesis piece, Kraken, a 14-by-10-foot, tornado-like mass of wound string based on unknown areas of early maps, has spawned a series of short stories, including "Sink Hole Tourism," recently published in Storm Cellar. In 2014, Cornell du Houx co-founded the Solon Center for Research and Publishing, which works to develop arts and literary programs in rural Maine. The non-profit grew out of a collaborative project with the publisher Polar Bear & Company, where she has been an editor and designer for many years.
Cornell du Houx has been developing curriculum at RISD that integrates writing into a studio-based practice. She examines the many ways that writing can aid creativity, how it can act as a process tool as well as a medium for reflection and idea generation. Her work in this area started with an ACP grant and subsequent yearlong fellowship to study undergraduate, studio-based writing. She has worked with emerging artists in the SEAF program, as well as teaching thesis and degree-project writing in the departments of Furniture Design, Textiles, Industrial Design and Jewelry + Metalsmithing.
Cornell du Houx is currently finishing her first novel and preparing for a residency at Eagle Hill, where she will develop a body of work that explores the intersection of photography and object making to communicate a sense of the shifting subterranean landscape – namely caves, mines and aquifers.
Fall 2022
FD-248G-01 Furniture Design Thesis Seminar

ID-251G-01 Graduate Thesis Mapping and Narrative I

ID-251G-02 Graduate Thesis Mapping and Narrative I

NMSE-8965-03 Collaborative Study
Spring 2023
FD-2591-01 Furniture Design Degree Project Seminar

FD-2591-02 Furniture Design Degree Project Seminar