Alexandra Foradas
Lecturer
Image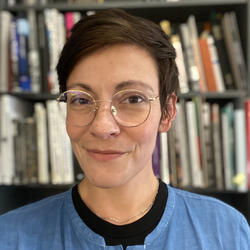 Alexandra Foradas is a curator at MASS MoCA, where she began as a Williams Graduate Curatorial Fellow in 2013. She specializes in modern and contemporary art, with an emphasis on systems of meaning-making, technologies of knowledge transmission and practices of care.
At MASS MoCA, Foradas curated the group exhibitions Bibliothecaphilia (2015), Kissing through a Curtain (2020; catalogue 2021), "How does your horn sound?" (2020) and Deep Water (2022), as well as solo exhibitions of work by Jenny Holzer (2017, 2019), Janice Kerbel (Slip, 2017), Gunnar Schonbeck (No Experience Required, 2017, co-curated with Mark Stewart), Taryn Simon (A Cold Hole + Assembled Audience, 2018, and The Pipes, 2021). Public programming includes the symposium The Machine that Makes the Art: Interpretation, Collaboration, and Sol LeWitt's Wall Drawings (convener and moderator, 2018); Time of Now Festival: History and Memory (coproducer, 2021); the internal discussion series MASSpeaks (co-organizer, 2020–); and various public talks. Foradas was also part of the advisory collective for Care Syllabus. Upcoming projects include exhibitions of work by EJ Hill (2022) and Jason Moran (2022) and a group exhibition focusing on technology and enchantment (2024).
Previously, Foradas held positions at The Arts Club of Chicago and the Art Institute of Chicago. She has been a guest lecturer or critic at institutions including UMass Amherst, MassArt, Keene State, Temple University, Art OMI, The Wassaic Project, The Elizabeth Murray Artist Residency and the Williams College Museum of Art, and she has taught at Hunter College.
Fall 2022
GLASS-451G-01 Graduate Critical Issues Seminar

GRAD-451G-01 Grad Critical Issues Seminar